Look. This may seem like an absurd idea, but your summer plans, taken in total, were always going to involve traveling, staying in a hotel, lounging around water in a kitschy pool float, and probably going on a late-night run to Taco Bell. Yes, some of these things are objectively more exciting than others, but they're all going to happen. Wouldn't it be nice if you could pile all of them into a single building and not worry about going anywhere?
That's the premise behind The Bell, a Taco Bell-themed pop-up hotel and resort first announced last month. It was fun to contemplate, but you couldn't book a room, and it wasn't clear what you'd find once you got there. Well, fair reader, wonder no longer. At 10am PT on June 27 you will be able to book your stay at The Bell. The first check-ins for the four-day pop-up begin on August 8. There's no minimum stay, so you can even just pop in for a single evening.
Taco Bell says no two days at the hotel will be the same. There's going to be a "Freeze Lounge" inspired by Mountain Dew's Baja Blast (oh yes, there will be branded experiences!), dive-in movies, live performances from Feed the Beat artists, a salon with taco-inspired nail art, and much more. There will also be a bar and the press release hints that guests will be served Taco Bell in bed for breakfast.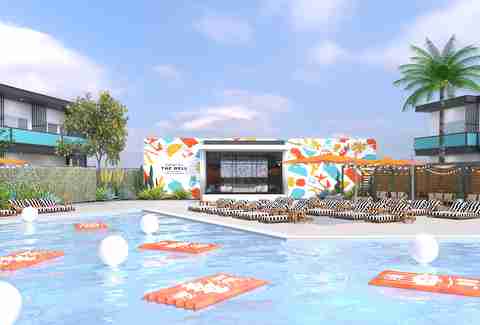 More details on the food side of the trip are expected in July, but the company has promised to debut new comestibles at the resort. 
Heavily themed experiences with very limited supply generally equal a high demand. If you want to book a stay at the Palm Springs, California resort, you're going to have to have your clicking finger ready to go berserk right at 10am. There are more than 70 rooms in the building, but with just four nights available, it's hard to imagine you'll have much luck booking if you wait a few days. Room run $169 per night. That's the equivalent of about 100 soft tacos at Taco Bell.
Sign up here for our daily Thrillist email and subscribe here for our YouTube channel to get your fix of the best in food/drink/fun.