Taco Bell Made an Instagram Filter That Tells You What Menu Item You Are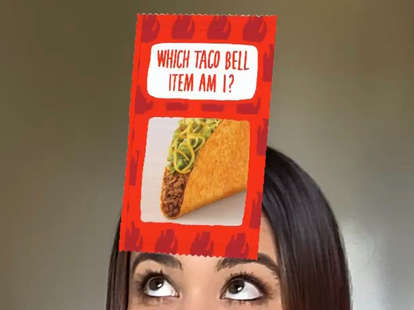 Edited - Courtesy of Taco Bell
Personality quizzes have always been popular on the internet. It's fun to have someone -- or something -- dissect our personalities in easy-to-digest ways. It therefore comes as no surprise that the latest Instagram filter trend has to do with sorting who you are as a person based on Pokémon, TV shows, restaurant chains, Pixar characters, and now, the Taco Bell menu.
Have you ever wondered if you're more chalupa or strictly taco? Or if you're sweet like cinnamon twists or in a bit of an identity crisis like the Mexican Pizza? You can now use Taco Bell's instagram filter, found here, to determine which menu item is the most you. The filter can also double as what you should order on your next trip to T-Bell, if you're feeling indecisive and in need of inspiration.
There are eight menu items that you may be sorted into, including the cult-loved Doritos Locos Taco and the reliable Chicken Quesadilla. Honestly, you can't really go wrong with any Taco Bell item -- except for those sad cinnamon twists. Bring back the Caramel Apple Empanada and you'll have a winning filter and menu, Taco Bell.
Sign up here for our daily Thrillist email and subscribe here for our YouTube channel to get your fix of the best in food/drink/fun.
Kat Thompson is a staff writer at Thrillist and, according to the Taco Bell filter, a Doritos Locos Taco. Follow her on Twitter @katthompsonn.