Fried Chicken Nacho Chips are Coming to Taco Bells Nationwide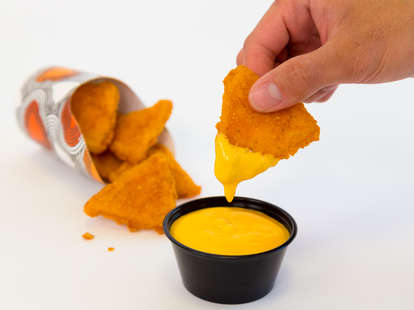 Courtesy of Taco Bell
Courtesy of Taco Bell
When Taco Bell unleashed the Naked Chicken Chalupa earlier this year, the days of testing your digestive system's fortitude with the much-hyped fried chicken shell tacos were sadly short lived. But now, the fast food chain is about to bring back the fried chicken insanity with yet another new stunt food.
They're called Naked Chicken Chips, and they're T-Bell's wild -- if not inevitable -- new twist on the classic snack of chips and dip, according to a press release. Like the crispy chicken taco shell of the same 'Naked Chicken' provenance, the so-called chips are made with marinated white meat chicken seasoned with a blend of Mexican spices, and served with a cup of nacho cheese sauce for dipping. Basically, they're more like chicken nuggets than chips or nachos. They're probably better with Fire Sauce than with ketchup, though.
Taco Bell said the chicken-chip hybrids will be available in a 6-piece for $1.99 or a 12-piece for $2.99 at its locations nationwide starting on May 11, although the prices may vary by market. As with many of the chain's recent creations, the Naked Chicken Chips are only a temporary addition to its menu. All we want to know is if you can order them Nacho Supreme style with toppings. Only one way to find out...
Sign up here for our daily Thrillist email, and get your fix of the best in food/drink/fun.
Tony Merevick is Cities News Editor at Thrillist and has a feeling T-Bell has even more fried chicken stunt food up its sleeves. Send news tips to news@thrillist.com and follow him on Twitter @tonymerevick.