It's actually kind of an adorable story when you think about it. Taco Bell's very first store -- just 53 years old -- is being moved 45 miles up the road from Downey, CA to Irvine. The original store, lovingly nicknamed "Numero Uno," has been in the Downey location since 1962, but has been facing the threat of demolition since it stopped being a Taco Bell in 1986 and was permanently vacated in December 2014. 
Recommended Video
This Coffee Shop is Harry Potter-Themed
"This building isn't designed by a famous architect, and it's not particularly beautiful in the conventional sense. But it does demonstrate how even the most ordinary buildings can tell tremendous stories," stated Katie Rispoli of LA preservationists, We Are The Next, who will be physically moving the defunct fast food building to its new location. 
"By saving and conserving structures like the first Taco Bell in Downey, we hope to set a precedent and demonstrate the great power that can come from unexpected histories in seemingly-ordinary places."
Aww, "not particularly beautiful in the conventional sense," that's what you say to an ugly person when they ask you if they're ugly.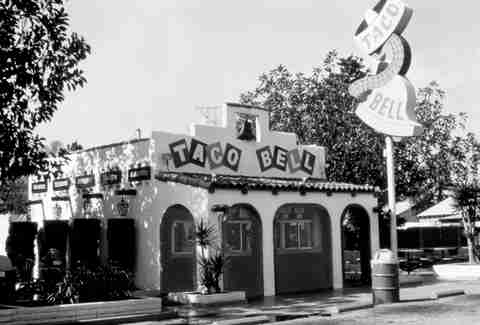 Regardless of its looks, the 400 square foot building is important, because it's where Taco Bell was born. The building will reportedly remain at Taco Bell HQ for storage until they figure out what to do with the damn thing.
Interested fans can use the hashtag #SaveTacoBell to follow Numero Uno when it moves on November 19. 
Sign up here for our daily Thrillist email, and get your fix of the best in food/drink/fun.
Jeremy Glass is a writer for Thrillist and loves Taco Bell with all his heart.