Taco Bell Is Making Nacho Fries Now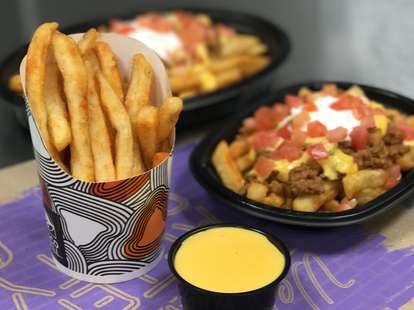 Courtesy of Taco Bell
Courtesy of Taco Bell
Along with all the cheap tacos you eat to help soak up the beer you've been drinking, there's a good chance you hit up your local Taco Bell for its equal parts delicious and absurd stunt food creations, like the Triple Double Crunchwrap, the Naked Chicken Chalupa, and the Doritos Quesalupa Crunch. But now, it looks like the "food innovation"-crazed chain is offering a new menu item that's, well, decidedly ordinary: French fries.
They're called Nacho Fries and they're just as simple as they sound: seasoned French fries served with nacho cheese dipping sauce. T-Bell is also serving a loaded version similar to its regular nachos dubbed Nacho Fries Supreme, which come topped with beef, pico de gallo, nacho cheese, and sour cream. A Taco Bell spokesperson said the chain is testing the new fries at locations in West Virginia for $1. However, it looks like people have recently spotted them in California as well, according to a report by The Impulse Buy.
Exciting as the West Virginia test may be, it's worth pointing out that it's not the first time the company has experimented with fries and nacho fries in some markets, including the small test in Irvine, California we told you about last year. They've also appeared in various forms at international T-Bell locations. Although the chain hasn't announced plans to roll fries out nationwide, with any luck, you'll be eating them with a bag full of Chalupas and Smothered Burritos in no time. Get a few packets of Fire Sauce ready.
Sign up here for our daily Thrillist email, and get your fix of the best in food/drink/fun.
Tony Merevick is Cities News Editor at Thrillist and wouldn't mind if these rolled out nationally. Send news tips to news@thrillist.com and follow him on Twitter @tonymerevick.