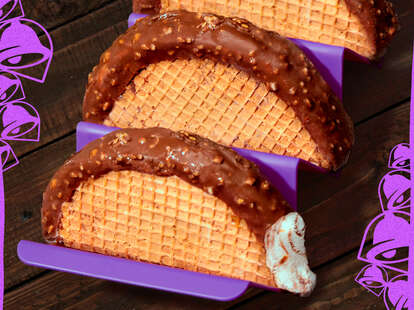 You may be able to get a side of nostalgia with your next Taco Bell order. The chain announced Thursday that it has again teamed up with Klondike to serve the iconic Choco Taco ice cream treat on its dessert menu after a seven-year absence.
The ice cream truck favorite is available as part of a test rollout at just 20 T-Bell locations in Los Angeles and Milwaukee, starting February 17, but only for a little while. When reached by Thrillist, spokesperson the chain wouldn't reveal plans to add the Choco Taco to the nationwide menu but hinted that it's possible.
The Klondike Choco Taco is more or less exactly what it sounds like: a chocolatey dessert in the familiar form of a taco. It's made with a waffle-cone-like shell that's coated with chocolate, filled with fudge-swirled ice cream, and topped with peanuts for an extra crunch. As you may recall from childhood, these things are just as messy as regular hard-shelled tacos with the added benefit of dripping melted ice cream. In other words, they're downright delightful.
Taco Bell said the Choco Taco's return comes as part of its 60th anniversary and Klondike's 100th anniversary.
"We're excited to reunite with our partners at Klondike and test the iconic Choco Taco with today's consumer," Taco Bell's Global Chief Food Innovation Officer, Liz Matthews, said in a press release. "To bring back such a nostalgic favorite after a seven year absence is special and to do it during our 60th anniversary was the perfect fit."
If you're in the LA or Milwaukee areas (check out the complete list of locations below), you can get your hands on the sweet comeback for around $2.99 a pop.
Taco Bell Locations Serving Choco Tacos
Los Angeles/Southern California:
204 N. Gaffey, San Pedro, CA 90731
1031 S. Gaffey St., San Pedro, CA 90731
5125 Pacific Coast Highway, Torrance, CA 90505
22235 S Main St., Carson, CA 90745
921 West Sepulveda Boulevard, Torrance, CA 90502
2054 Lomita Boulevard, Lomita, CA 90717
640 Pacific Coast Highway, Seal Beach, CA 90740
1408 W. Century Boulevard, Los Angeles, CA 90047
228 E. Seventh St., Long Beach, CA 90813
9919 S. Avalon Boulevard., Los Angeles, CA 90003
Milwaukee
2056 Milwaukee Ave., Burlington, WI 53105
7020 Green Bay Road, Kenosha, WI 53142
4002 52nd St., Kenosha, WI 53144
8040 Sheridan Road, Kenosha, WI 53143
12120 75th St., Kenosha, WI 53142
230 West Layton Ave., Milwaukee, WI 53207
3334 S. 27th St., Milwaukee, WI 53215
920 Greenwald Court, Mukwonago, WI 53149
8261 S. Howell Ave., Oak Creek, WI 53154
1750 Summit Ave., Oconomowoc, WI 53066