Taco Bell's New $1 Tacos Have Double Stacked Shells Filled with Cheese
Although Taco Bell is known to be somewhat inexpensive compared to other fast food options, you have to admit it's still dangerously easy to drop 20 bucks on a bag full of Crunchwraps, Chalupas, and Gorditas. Well, that could soon change -- at least a little bit -- thanks to the chain's new $1 tacos, featuring double-stacked shells filled with melty cheese and sauces.
They're aptly dubbed $1 Double Stacked Tacos, and Taco Bell just announced it's unleashing them in three flavors -- Cool Habanero, Cheddar Crunch, and Sweet & Spicy -- for a limited time, starting on Thursday, December 22nd. While you can probably guess this from the name of each flavor, T-Bell said the tacos bring "two opposite flavors and textures together for an epic showdown of taste," hence the double-stacked hard and soft taco shells.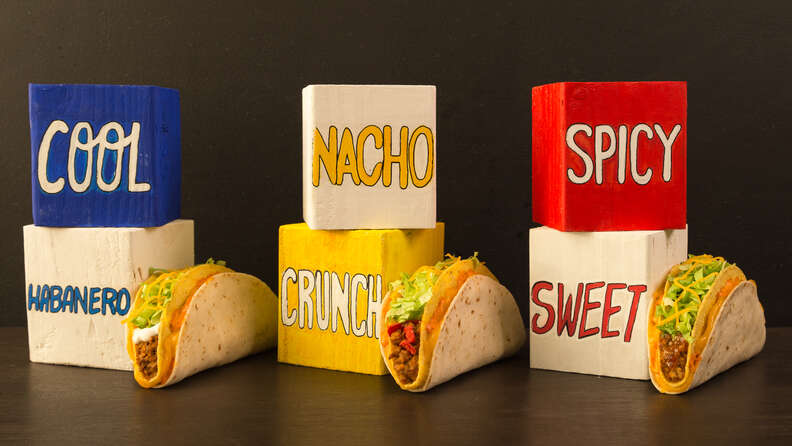 On top of the soft and crunchy texture combination, the new tacos also feature two new sauces. Here's how Taco Bell describes them, per a spokesperson for the chain:
Habanero sauce for the Cool Habanero Taco provides heat from the flavors of habanero pepper, guajillo peppers, garlic, ancho chili pepper and paprika, paired with tangy notes from lime and vinegar
Sweet Chili sauce for the Sweet & Spicy Taco is sweet with a hint of heat to complement our beef, and made with a blend of garlic, cayenne pepper and red bell peppers
Basically, it looks like you've got yet another reason to hit up the airport/bus station/mall Taco Bell to eat all your holiday travel stress this week. You know what to do.
Sign up here for our daily Thrillist email, and get your fix of the best in food/drink/fun.
Tony Merevick is Cities News Editor at Thrillist and is really tempted to make a Taco Bell run for lunch today. Send news tips to news@thrillist.com and follow him on Twitter @tonymerevick.