Taco Bell's New Chalupa Is a Half-Pound Meat Monstrosity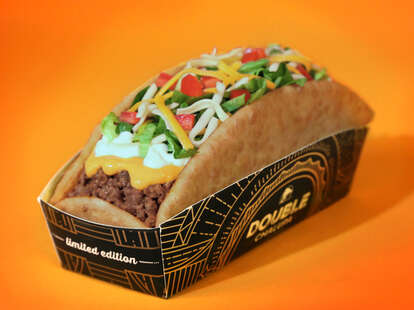 From the Grilled Stuft Nacho to the Quesalupa, Taco Bell has long tested the limits of how many differently shaped stunt foods it can make out of ground beef, cheese, lettuce, tomatoes, sour cream, and various type of tortillas. But this time, the fast food chain has created a monstrous new taco simply by doubling the size of one of its classic menu items.
The hefty taco is called the Double Chalupa, and just as its name suggests, it's double the size of a regular Chalupa, comes packed with double the ingredients, and will probably double the extent to which you question your life choices while eating one at 2am. Or something like that. T-Bell said it even made an oversized Chalupa shell just to hold all of the extra beef and that each Double Chalupa totals a little over 9oz, or more than half a pound. It's a damn shame they didn't double the size of Fire Sauce packets, though.
The Double Chalupa is available at Taco Bell locations nationwide as of Thursday, but will only be around for a limited time this summer, according to a press release. There's also a spicy version of the taco made with jalapeños, if you're into that kind of thing. Of course, it remains to be seen if they look as massive in real life, but in any case, you may want to get double the TUMS ready.
Sign up here for our daily Thrillist email and subscribe here for our YouTube channel to get your fix of the best in food/drink/fun.

Tony Merevick is Senior News Editor at Thrillist and hopes they double the size of Fire Sauce packets for this thing. Send news tips to news@thrillist.com and follow him on Twitter @tonymerevick.