Taco Bell Just Unleashed a 'Steakhouse' Burrito and Nachos Featuring Its First-Ever Queso Dip
Considering huge new menu items like the Quesalupa, the Triple Double Crunchwrap, and a Cheetos-stuffed burrito this year, it seems like Taco Bell has been a little too busy devising monstrous stunt food to add something as simple as queso to its lineup. Thankfully, that finally changed on Thursday, with the launch of its first-ever queso cheese dip along with the new Steakhouse Burrito and Steakhouse Nachos.
Turns out Taco Bell had worked on the new queso dip for a while, but ultimately deemed the new Steakhouse Burrito and Steakhouse Nachos as the perfect vehicles for introducing the creamy, green chile cheese sauce to the world. Both the burrito and the nachos come loaded with the new queso, along with a considerable helping of steak.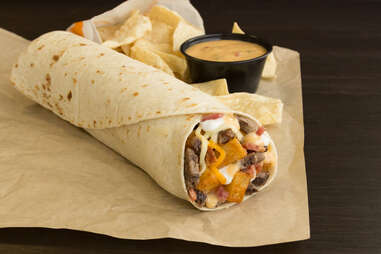 T-Bell describes the Steakhouse Burrito as a convenient, steakhouse-style meal that comes "filled with heaping, double portions of grilled marinated steak, hearty potato bites, crispy bacon, cool sour cream, and our new zesty queso. Similarly, the Steakhouse Nachos feature a double portion of marinated steak that's loaded with the new queso sauce along with other toppings like pico de gallo and guacamole. All you need to add is a packet or two of Fire Sauce.
As for the Green Chile Queso itself, Taco Bell admits that it took forever to create the creamy nacho accessory, but said the result was worth the wait: "We took our time perfecting the recipe, going through 20+ versions until we reached the perfect flavor and level of spice," the company said in a statement. "... In the end, we think we got to the perfect combination of sharp and creamy indulgence balanced with good spice and acidity from the peppers and spices."
Specifically, the sauce is made with cheese, fire-roasted green chilies from the Hatch Valley of New Mexico, jalapenos, onions, tomatillos, and cayenne pepper. In other words, you can forget about getting the same old Nachos Supreme on the side. Queso and chips is the way to go now.
Sign up here for our daily Thrillist email, and get your fix of the best in food/drink/fun.
Tony Merevick is Cities News Editor at Thrillist and might have to make a quick Taco Bell run sometime soon. Send news tips to news@thrillist.com and follow him on Twitter @tonymerevick.