Taco Bell Debuts 2 New Burritos That Cost $1 Each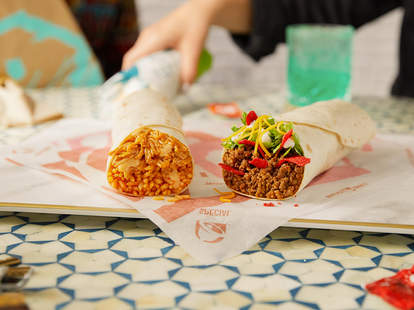 Taco Bell is keeping its word to provide cheaper options through a continuously expanded value menu. The burrito slingers, that recently debuted a Human Centipede-esque Triplelupa, is now offering two new burritos that are only a dollar each.
Say hello to the Loaded Taco Burrito and the Chipotle Chicken Burrito.
The Loaded Taco Burrito is stuffed with seasoned beef, crunchy red strips, cheddar cheese, sour cream, lettuce, and tomatoes all wrapped up in a warm flour tortilla. The Chipotle Chicken Burrito, of course, contains marinated shredded chicken and Taco Bell's spicy chipotle sauce, but is also loaded with seasoned rice and cheddar cheese in a flour tortilla blanket. Both would taste excellent under a shower of Fire Sauce, I'm sure.
These two new burritos are available now nationwide for, again, a single dollar -- though you can also order them in a $5 box and get a Chalupa Supreme, Crunchy Taco, and medium drink to round out your meal. Throughout everything, when it comes to value, Taco Bell has got your back. Even better? Taco Bell offers delivery, so by all means practice social distancing with some new burrito pals.
Sign up here for our daily Thrillist email and subscribe here for our YouTube channel to get your fix of the best in food/drink/fun.
Kat Thompson is a staff writer at Thrillist. Follow her on Twitter @katthompsonn.