You Can Now Make Upwards of $100,000 Working at Taco Bell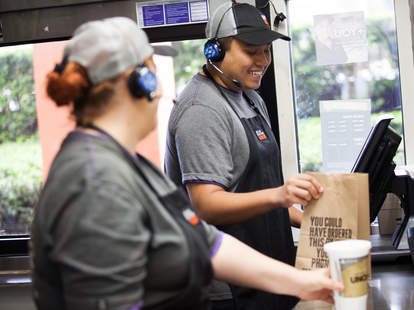 Like all of us, Taco Bell is starting the year off with some resolutions. No, they don't have to do with losing weight or drinking less alcohol. Instead, the resolutions are big steps that lots of corporations should be taking: making compostable packaging by 2025, championing its people with paid sick time for all corporate-owned restaurant employees, continuing to provide an array of vegetarian options, and even testing a $100,000 salary for restaurant managers.
For now, Taco Bell's $100,000 salary is only being tested for restaurant managers who work at company-owned franchises, so the pay will continue vary across all Taco Bells. That being said, Taco Bell has officially made every restaurant employee who works at a Taco Bell-owned location eligible for at least 24 hours of sick paid time off per calendar year. Hopefully, Taco Bell will increase that number in the coming years as three days is not nearly enough time to feel rested following a bout of the flu or a fever.
"As Taco Bell expands its footprint, our responsibility to drive positive impact increases," Mark King, Taco Bell's CEO, said in a press release. "Our business growth in the last decade has positioned us to create change for good and implement creative solutions for our planet, our people and our food. We're excited to shake things up and make 2020 even more about what matters most: our purpose."
In addition to changes to pay and sick time, Taco Bell said it's working on sustainable packaging that will be recyclable, reusable, or compostable by 2025 while each Taco Bell location will have recycling and compost bins. For a chain that serves so much food year over year, this is a good step in protecting our environment and sparing our landfills of even more garbage.
Lastly, Taco Bell promises to continue providing endless vegetarian options, which the chain has been doing for years. The dedicated vegetarian menu is certified by the American Vegetarian Association and has delicious options, like the Black Bean Crunchwrap Supreme, to choose from. 
Hopefully, Taco Bell can achieve all of these goals and more in 2020 and beyond because the positive strides will only make our Fiesta Potatoes and Doritos Locos Tacos taste better. Oh, and please -- for the love of God -- bring back the Caramel Apple Empanada.
MORE: Do In-N-Out managers earn more than the architects and pharmacists?
Sign up here for our daily Thrillist email and subscribe here for our YouTube channel to get your fix of the best in food/drink/fun.
Kat Thompson is a staff writer at Thrillist. Follow her on Twitter @katthompsonn.