New Menu Cuts at Taco Bell Once Again Lead to Petitions & Social Media Backlash
Every Taco Bell menu item has its day, but fans are in denial.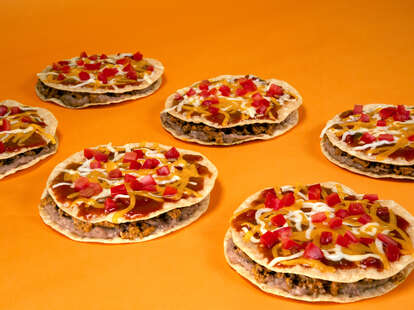 Courtesy of Taco Bell
Courtesy of Taco Bell
Millions of Taco Bell fans are somewhere between mourning and revolt on Thursday, following news of the chain's decision to permanently remove Mexican Pizza and a handful of other items from its menu.
Taco Bell announce the cuts will be happening on November 5, in one final push towards a new, streamlined menu. While the most recent menu cuts also included pico de gallo and all shredded chicken items (Shredded Chicken Soft Taco, Shredded Chicken Burrito, and Shredded Chicken Quesadilla Melt), Taco Bell fans have definitely zeroed in on the pie. A new petition highlights not only its deliciousness but its cultural significance.
"This is an item loved by many, especially the South Asian community," the petition reads, linking to a Takeout article about how many South Asians find a vegetarian and halal option in the bean-substituted version of Mexican pizza. News of the Mexican pizza's removal follows the chain's decision to remove all menu items containing potatoes, which pissed everyone off for similar reasons.
The petition includes multiple calls to action, including "buy as many Mexican pizzas as possible to drive their numbers," but the numbers actually appear to be the problem. Taco Bell said packaging for its pizza accounted for more than 7 million pounds of paperboard every year.
All that devastation aside, here's some good news: a Taco Bell spokesperson confirmed to Thrillist that these menu cuts won't happen again for a while, and said we should expect the arrival of a Chicken Chipotle Melt, Dragonfruit Freeze, Green Sauce, and Quesalupa. May you sleep at least a wink tonight!
Sign up here for our daily Thrillist email and subscribe here for our YouTube channel to get your fix of the best in food/drink/fun.
Ruby Anderson is a News Writer at Thrillist. Send your tips to randerson@thrillist.com.