Taco Bell's Making Chicken & Biscuits and a New Lineup of Fried Chicken
While National Taco Day — and its many deals for free tacos — has come and gone this week, it looks like the exciting taco news just keeps coming, thanks to Taco Bell. While everyone was still dealing with heartburn from the annual taco celebration, the fast food chain unleashed its latest lineup of fried chicken menu items on Thursday morning, including an all-new Chicken & Biscuits.
After first debuting in the form of the much-hyped Naked Chicken Chalupa and Naked Chicken Chips earlier this year, T-Bell's insane take on fried chicken is officially back on menus nationwide. For the first time, the chain is serving what it calls the Crispy Chicken Quesadilla, which is basically a standard quesadilla that comes stuffed with Naked Chicken Chips, melted cheese, and creamy jalapeno sauce. You can also get a six-count à la carte order of the triangular fried chicken nuggets with a cup of nacho cheese dipping sauce through mid-November. You're probably better off with some Fire Sauce, though.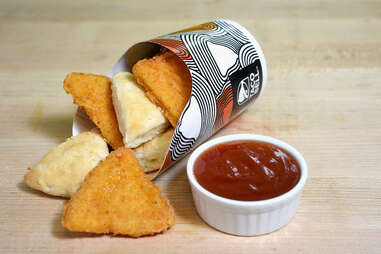 As for the aforementioned Chicken & Biscuits (shown above), T-Bell said it's currently testing the new breakfast menu item at locations in Indianapolis, Indiana for a limited time. They're made with Naked Chicken Chips and fluffy triangle-shaped biscuits served with either sweet and spicy jalapeno honey dipping sauce or nacho cheese dipping sauce, according to a press release. There's no word on if and when they'll arrive at additional locations across the country, though.
The fried chicken shell taco that started it all is also making a comeback after Taco Bell discontinued it in early March. Locations in Knoxville, Tennessee are now making a new version called the Bacon Ranch Naked Chicken Chalupa. Think the original, but with bacon and spicy ranch dressing added to the mix of cheese, lettuce, and tomatoes stuffed inside. The new flavor follows the company's trial run of a spicy version dubbed the Wild Naked Chicken Chalupa, but it remains to be seen which one will ultimately get a nationwide release.
Sign up here for our daily Thrillist email and subscribe here for our YouTube channel to get your fix of the best in food/drink/fun.
Tony Merevick is Senior News Editor at Thrillist and is craving fried chicken for breakfast now. Send news tips to news@thrillist.com and follow him on Twitter @tonymerevick.