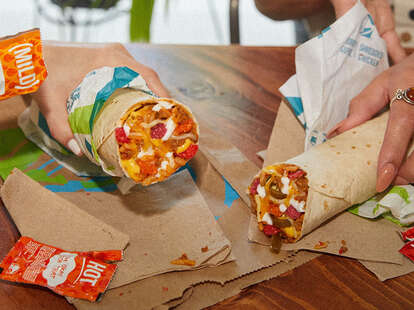 Courtesy of Taco Bell
Courtesy of Taco Bell
Taco Bell is back at it with some new menu options that'll help make your transition from June to July as cheesy as ever. The chain known for giving fans loaded burritos is staying the course with the launch of its new Cheesy Double Beef Burrito.
The value menu-ish newcomer sports layers of nacho cheese sauce with double the amount of flavorful seasoned beef as a Burrito Supreme. The new menu option also features a three cheese blend, reduced-fat sour cream, and seasoned rice, all combined in a warm flour tortilla. If you want to kick things up a notch, you can add jalapeños for some spice. Perhaps the best thing about the new Cheesy Double Beef Burrito is that it's only $2. It's not the cheapest item on the menu, but it sounds like a deal to us.

Along with the new burritos, Taco Bell said it's also resurrecting its Cantina Crispy Chicken Tacos. T-Bell's unique twist on crispy chicken initially hit menus back in February and will now be available for $2.29 per taco. The Cantina Crispy Chicken Tacos feature all-white-meat chicken marinated in jalapeño buttermilk flavor with a crunchy tortilla chip coating. Each taco is made with cheddar cheese, lettuce, and tomatoes—all rolled in a soft tortilla. Fans have their choice of sauce, a flavorful Creamy Chipotle or Avocado Ranch.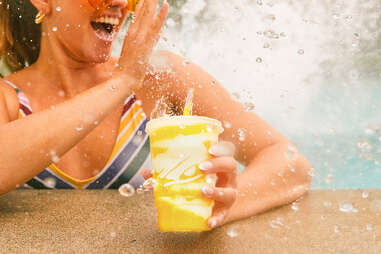 But Taco Bell isn't done giving yet. On top of all the additional food options, the chain is also serving a new drink to cool your hot summer. Fans can try the new Mango Whip Freeze or Mango Freeze. Both drinks have a sweet mango slushy base, but the Mango Whip Freeze features swirls of smooth, sweet vanilla-flavored cream.
A $2 new burrito, two new drinks, and a glorious comeback for some crispy chicken tacos? Taco Bell's menu is the gift that keeps on giving.
Janae Price is a News Staff Writer at Thrillist. She's a native New Yorker and loves all things cheese, K-pop, and culture. Follow her on Instagram and Twitter @janae_larie.