With the exception of its first-ever French fries, Taco Bell tends to stay in its lane and not switch things up much. The "fourth meal" purveyor relies on putting new twists and spins on more or less the same ingredients, and everyone's just fine with that. So, it should come as no surprise that T-Bell's new nachos are no exception, despite the chance it had to venture into exciting new ingredient territory.
Nearly five months after it started testing boxes of spicy Buffalo Chicken and Cheesy Jalapeno nachos in Charlotte, North Carolina, Taco Bell announced Tuesday it's adding the sizable orders of nachos to its menu nationwide, but unfortunately, they won't come in either of the two initial flavors. Instead, the chain is serving the nachos -- dubbed $5 Grande Nachos Boxes -- with its standard seasoned beef or its usual shredded chicken. Taco Bell had the chance to break new ground by offering buffalo-style chicken on its national menu, but it didn't take it. Your usual Fire Sauce will have to do.
Recommended Video
This Hot Cheetos Cookie Is a Sweet Kick of Heat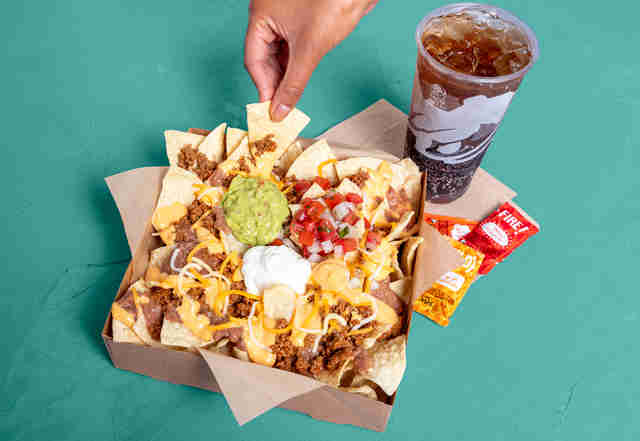 That's not to say the new nachos won't be good. They're made with a layer of tortilla chips, refried beans, nacho cheese sauce, sour cream, guacamole, a blend of three cheese, pico de gallo, and the aforementioned beef or shredded chicken (your choice). You also get a medium drink with the box for no extra cost. In case you're wondering, the buffalo chicken version of the nachos were almost identical to the new Grande Nachos Boxes, but they also came with dashes of buffalo sauce mixed into the other ingredients.
"Taco Bell is constantly testing dozens and dozens of different products throughout the year to identify what will roll out onto national menus," a spokesperson for the company told Thrillist. "While Buffalo sauce was not added to the Grande Nachos Box, it's not to say it won't roll out in the future or in another product."
Taco Bell has touted the nacho boxes as a full meal, but to us, they look more like a jumping off point before getting to your usual tacos or Crunchwraps. It's unclear how long they'll be available at your local T-Bell, but you should have plenty of time to try them and figure out ways to customize them to your liking.
Nachos aren't the only new item coming to a Taco Bell near you (well, maybe). The company is also rolling out $1 Double Stacked Tacos once again and adding new twists on the old classic. The taco features a crunchy shell stuffed with beef and cheddar cheese, all wrapped in a soft tortilla held together with the help of a little nacho cheese sauce. According to a press release, they're adding Chipotle Cheddar and Reaper Ranch varieties of the value menu tacos, too. The catch is that you'll only be able to try these out if you live in Birmingham, Alabama.
Taco Bell is also testing out $1 Grande Burritos in Oklahoma City, Oklahoma, and $1 Beef & Potato Flatbreads in Chattanooga, Tennessee. These tests depend on people buying the items, so don't blow it for the rest of the country, guys. You saw what happened with the buffalo chicken nachos. Sigh.

Sign up here for our daily Thrillist email and subscribe here for our YouTube channel to get your fix of the best in food/drink/fun.