Taco Bell's New Customizable Party Packs Will Make You a Hero at Parties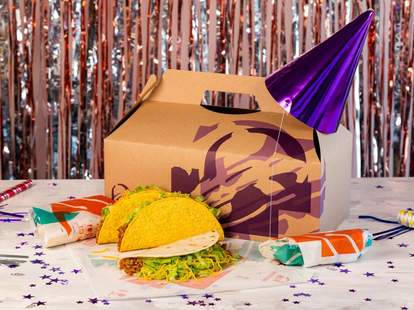 Here's the secret to making people like you: Bring them food. It's why people like moms so much, after all, and while it's great to bring more booze to a party, the person who shows up with food is a true hero. As opposed to tequila, food actually keeps people alive in addition to making them happy. 
So here's some great news for your social standing: Taco Bell is unleashing something called a Party Pack, which is more or less designed to help you win friends at parties. They come in the form of a to-go carton with a convenient handle, so you could just get one for yourself and carry it around with you all day like a meat purse if you're less into being social.
These are meant to be customizable for a party's needs, so you can easily sub out meat for beans or change the ratio of crunchy-to-soft tacos. There are also three packs to choose from: The Taco Party Pack, with a selection of 12 crunchy and soft tacos; the Taco Variety pack with 6 crunchy and soft tacos and 6 Nacho Cheese Doritos Locos Tacos; and finally the Grande Meal, with 10 of your choice of bean burritos, soft tacos, and crunchy tacos.
The Party Packs will be available starting on October 18, both in-restaurant and for delivery via GrubHub. And definitely note that on the Taco Bell app, you can get these packs for 15% off through the end of October.
So go forth and secure affection via ground meat and cheese.
Sign up here for our daily Thrillist email and subscribe here for our YouTube channel to get your fix of the best in food/drink/fun.