Taco Bell's New Frozen Drink Is a Tropical Mix of Pineapple and Creamy Vanilla
Taco Bell is now serving summer in a cup, along with a new "secret menu" drink.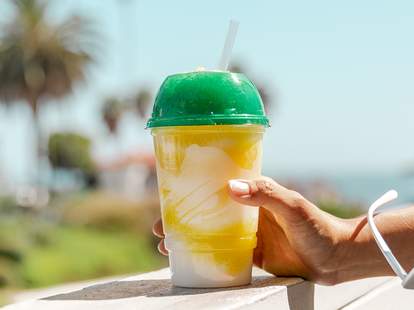 Unless you're hoping to scratch your occasional itch for some Mtn Dew Baja Blast, you're probably not going to Taco Bell for the drinks. You're going to Taco Bell (or ordering it!) for a big, steaming bag of Crunchwraps, Triplelupas, and various other combinations of tacos, burritos, and quesadillas. But that could soon change, thanks to the chain's latest frozen drink.
Just as Starbucks rolled out a colorful new Iced Guava Passionfruit Drink, Taco Bell announced the debut of an all-new tropical-inspired frozen drink for summer, the Pineapple Whip Freeze. The super-sweet drink is made with juicy pineapple flavors that are mixed with vanilla cream for a beverage the company describes as "the taste of summer we all needed." If you think it sounds kind of like Disney's famous Dole Whip, well, you're probably not alone. 
You can get your hands on a Pineapple Whip Freeze at most Taco Bell locations nationwide for about $2-$3, depending on the size you want. Or, if you're a late lunch or early dinner kind of person, you can wait until the chain's daily "Happier Hour" between 2-5pm and snag on for $1, according to a spokesperson. Or maybe the move is to order one for delivery and mix in some liquor from the comfort of your kitchen. We wouldn't blame ya.
And because Taco Bell just doesn't know where to stop, it's also recommending that you try a secret menu "tie-dye" drink made with the Pineapple Whip Freeze. Just ask for a mix of the Pineapple Whip, Mtn Drew Baja Blast Freeze, and Wild Strawberry Freeze. You'll end up with a stupidly colorful drink, a nice sugar rush, and maybe a spell of brain freeze.
Sign up here for our daily Thrillist email and subscribe here for our YouTube channel to get your fix of the best in food/drink/fun.