A Taco Bell Employee 'Where Weed Is Legal' Tells Hilarious, Stoned Customer Stories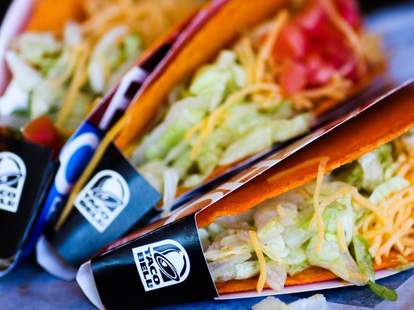 A young man who works the graveyard shift at a Taco Bell "in a state where marijuana is legal" has given the world a gift. He has allowed the universe to ask him anything. A seemingly innocuous AMA on Reddit has provided the world's hungry minds with a couple pieces of absolute gold that must be read.
Reddit user TeddyHansen has been answering questions and he starts with the obvious and best ones: What's the weirdest thing you've seen someone do at a Taco Bell?
The young man in question is an Oregon-based student who doesn't "blaze" himself but looks forward to trying it some day.
However, it wasn't just the responses from him that made the thread so great. Many people chimed in with wonderful answers of their own. One person queried, "As an English person who has never even seen a Taco Bell, what would you recommend for my first meal?" The below response hits the nail on the head. (Though this ranking probably would have helped.)
Sign up here for our daily Thrillist email, and get your fix of the best in food/drink/fun.
Dustin Nelson is a News Writer with Thrillist. He holds a Guinness World Record, but has never met the fingernail lady. He's written for Sports Illustrated, Rolling Stone, Men's Journal, The Rumpus, and other digital wonderlands. Follow him @dlukenelson.