Taco Bell's Quesalupa Is Back with 50% More Cheese Than the Original
Come for the return of potatoes, stay for a Quesalupa.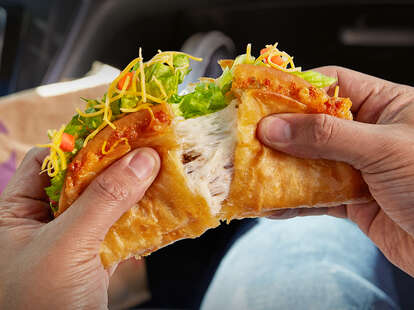 We went into this week thinking that the biggest news we'd see from Taco Bell in the coming days would be around the return of its beloved potato menu items. Turns out we were so wrong. On Wednesday—just a day before the much-anticipated potato revival—the Doritos Locos purveyor dropped even bigger news: the Quesalupa is coming back, and in typical T-Bell fashion, it's even cheesier than before.
The Chalupa-quesadilla hybrid will official return to Taco Bell's national menu alongside potatoes on Thursday, March 11. To recap: The last time we saw the Quesalupa was back when it first debuted in 2016 as part of a super-hyped reveal during the Super Bowl. Back then, the chain billed it as its "biggest food creation" ever. Now, it's boasting about the extra cheese in the new version.
Taco Bell claims the Quesalupa now sports 50% more cheese than the original. Cheese, of course, is what sort of glues the whole thing together. The chain takes a standard Chalupa shell and fills it with a layer of melty pepper jack and mozzarella cheeses that sort of mimics the cheese-filled texture and appearance of a quesadilla. Inside, you'll find standard Taco Bell ingredients: seasoned beef, shredded lettuce, cheddar cheese, diced tomatoes, and reduced-fat sour cream. It's kind of like taking a slice of a quesadilla, filling it with meat and toppings, and folding it to eat like a taco, but with the added crispiness of the Chalupa shell.
"Behind the scenes in our Test Kitchen, my team is constantly hard at work ideating on how to enhance the food experience for our guests," Liz Matthews, Taco Bell's global chief food innovation officer, said in a statement. "Our customers raved about the cheese filled Chalupa shell in its first debut, so when the Quesalupa began its return journey back to our nationwide menus, we knew we needed to perfect that cheesy experience—one that will be consistent for every guest and every bite."
You can order one on its over for around $3.49 or get it as part of a combo with two Crunchy Tacos and a large fountain drink for around $6, according to a press release. The menu item's launch comes with a small perk for members of the chain's loyalty program, Taco Bell Rewards Beta. If you have an account, you can get early access to the Quesalupa on Wednesday, March 10—the day before it's available to everyone else.
Then again, the move here could very well be to wait until potatoes are back on March 11 and have Taco Bell throw them into your Quesalupa as an add-on. Try it and thanks us later.
Sign up here for our daily Thrillist email and subscribe here for our YouTube channel to get your fix of the best in food/drink/fun.