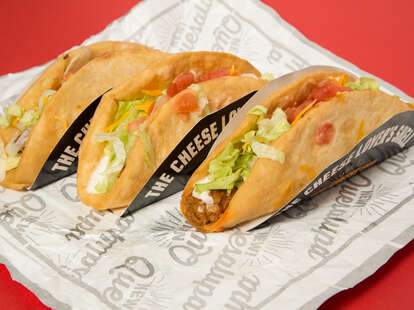 After weeks of mystery-fueled hype (minus those leaks on Reddit) and, finally, a grand reveal in a Super Bowl commercial last night, Taco Bell's big new product, the Quesalupa, landed in T-Bell restaurants nationwide on Monday. Naturally, we went out and grabbed a few of the quesadilla-Chalupa hybrids to see if they live up to all the talk.
First of all, the Quesalupa is likely Taco Bell's biggest new menu item in years, considering the expensive and lengthy marketing campaign the company unleashed in hopes of persuading you to eat them. In fact, the Super Bowl spot promises they're "bigger than everything," even bigger than items from the cultural zeitgeist like man buns, drones, and those ridiculous "hoverboard" deathtraps. Obviously, that's a pretty damn big claim for a fast food taco creation, but then again, people love Taco Bell's fast food taco creations.
The Quesalupa will be no exception. But we examined it with a critical eye. And mouth.
Eating it
The appeal all boils down to what Taco Bell figured out a long time ago: you can't go wrong with combining a crispy, cheesy quesadilla with the chewy, tostada-like Chalupa. However, the Quesalupa is not just a quesadilla folded like a taco and stuffed with a Chalupa's ingredients.
Instead, the Quesalupa's shell comprises equal parts crispy and chewy shell, just infused with melted pepper jack cheese. That vehicle comes filled with seasoned beef, lettuce, reduced-fat sour cream, tomato, and cheddar cheese. We ordered the standard beef Quesalupa along with Taco Bell's steak, chicken, and breakfast versions.
As promised, the Quesalupas come stuffed with a muy grande amount of cheese, both inside the shell and atop the standard filling. Ours came with particularly generous blobs of sour cream, which we're not mad about at all. They're also remarkably hefty, thanks to the added cheese, which is another plus.
However, the shell isn't as crispy as expected based on Taco Bell's promotional images. In real life, it's much softer and chewier, and likely won't afford you Instagram-grade strands of cheese when you tear it in half. We tried. It's definitely a bit denser than expected.
The Verdict
All said and eaten, the Quesalupa is as tasty as it is unsurprising. Think about it: besides the cheesy shell, all of the ingredients are things you've already tasted in previous Taco Bell offerings, but the shell (and its pepper jack payload) is key. It makes this thing worthwhile, hands down.
We understand why Taco Bell is so damn excited about the Quesalupa -- we're excited, too. After all, It's the spawn of a quesadilla and a Chalupa. Those things are both terrific. So the Quesalupa is good, and it's delicious. It's not rocket science. It's not even lawn-dart science. It's Taco Bell.
And for the record: we recommend throwing some fire sauce on your Quesalupa.
Sign up here for our daily Thrillist email, and get your fix of the best in food/drink/fun.
Tony Merevick is Cities News Editor at Thrillist and thinks all taco shells should come with cheese fillings. Send news tips to news@thrillist.com and follow him on Twitter @tonymerevick.