Taco Bell Is Bringing Back Its Queso-Flavored Chicken Wings with a Huge Meal Deal
Get your Crispy Chicken Wings with a Mexican Pizza, four Crunchy Tacos, and a few sides of Spicy Ranch.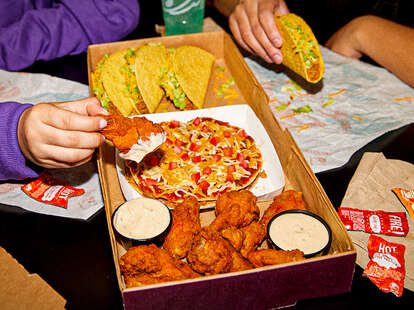 Courtesy of Taco Bell
Courtesy of Taco Bell
Taco Bell introduced its own take on the chicken wing trend back in 2021. And naturally, because it's T-Bell, the creation comes doused in a queso-flavored seasoning. After a much-too-long hiatus from menus, the Chalupa slinger is bringing them back just in time for the Super Bowl.
Starting Thursday, January 26, Taco Bell is serving up an Ultimate GameDay Box that's brimming with menu favorites, including one Mexican Pizza, four Crunchy Tacos, and eight Crispy Chicken Wings for $22. The wings are available a la carte too for $6.99.
In case you need a refresher, here it is: the bone-in Crispy Chicken Wings—which last returned in January 2022—are coated in queso seasoning, fried to perfection, and served with spicy ranch dipping sauce (of which you'll get two sides of in your GameDay Box). The GameDay Box will be available through February 9, or until supplies last.
While we're over the moon about the triumphant return, it's not the only Taco Bell announcement to hit the news cycle today. Taco Bell is also cuing up free delivery on its fan-favorite Mexican Pizza when you spend $15 or more in the app now through February 1. Snag the Ultimate GameDay Box and you're already at that order minimum.