Taco Bell Is Unleashing Super-Spicy Reaper Ranch Tortilla Chips & They Are No Joke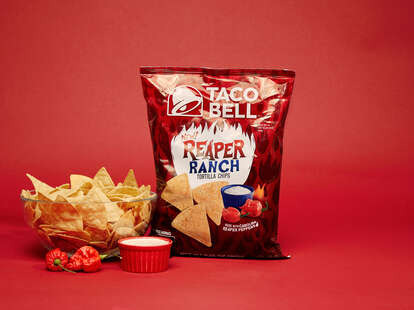 Courtesy of Taco Bell
Courtesy of Taco Bell
Earlier this year, Taco Bell introduced spicy Reaper Ranch fries and a burrito that incorporated a hot ingredient (currently the world's spiciest pepper), the Carolina Reaper. The result was a successful tongue-tingling fiesta that included steak and plenty of gooey cheese. Now, Taco Bell is channeling that same heat into convenience store snacks with the debut of Reaper Ranch Tortilla Chips, joining the line of other tortilla chip flavors like Diablo, Classic, and Fire.
"We've seen our fans incorporate chips into entrees, sprinkled on salads and, of course, enjoyed as the best grab-and-go snack," Taco Bell's Senior Director of Retail Engagement and Experience, Jennifer Arnoldt, said in a press release. "No one expected us to come out with a flavor hotter than Diablo, and we're excited to show our fans that we're constantly innovating when it comes to giving them access to the Taco Bell flavors they know and love in unique and unexpected new ways."
So do the new Taco Bell Reaper Ranch chips actually pack a punch?
Undoubtedly, yes. And this is coming from someone who grew up with a Thai grandmother who consistently force-fed me bird's eye chile everything.
The heat comes slow; initially, the only flavor you're really getting is zesty ranch, similar to Doritos's classic Cool Ranch. It's herbaceous and reminiscent of garlic, onions, and sour cream. Over time, however, the heat starts to invade the inside of your mouth, beginning at the back of your throat. It's not spicy enough to make you pant or sweat or cry, but it is spicy enough to warm the entirety of your mouth and coat your tongue. And it has the type of spice that if you inhale the powder, you'll definitely be overtaken by a coughing fit. The ranch seasoning does nothing to tame the heat, and that's OK -- it's a tortilla chip that leans into being genuinely spicy and I can appreciate that.
How do I get my hands on a bag of Taco Bell Reaper Ranch chips?
The Taco Bell Reaper Ranch chips are available now and can be found at local 7-Eleven, CVS, Walmart, and Circle K, with prices varying depending on location. Though they're Taco Bell's spiciest chip yet, like the summer, the heat won't be around forever. If you're interested in trying this limited-edition chip, be sure to find it before it's gone and see if you can handle a Carolina Reaper in chip form.
Sign up here for our daily Thrillist email and subscribe here for our YouTube channel to get your fix of the best in food/drink/fun.
Kat Thompson is a staff writer at Thrillist. Follow her on Twitter @katthompsonn.