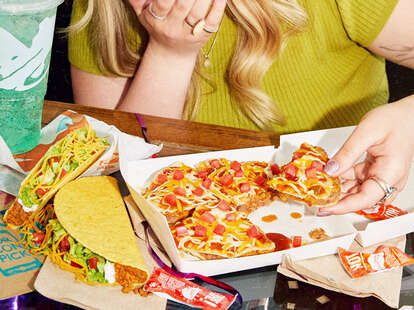 Taco Bell's fan-favorite Mexican Pizza has finally returned to menus after a brief hiatus. But fans haven't exactly received it with open arms expected. In fact, many are convinced the chain changed its beloved recipe.
Fans have taken to Twitter, arguing that it seems a bit off. "Does anyone else think the Mexican pizza tastes different now that it's back?" one user wrote on social media, with another adding, "Taco Bell brought back the Mexican pizza, but it tastes different."
To backtrack briefly, Taco Bell announced plans to discontinue its beloved Mexican Pizza from menus beginning on November 5, 2020, which immediately upset fans. A petition hit the web and quickly garnered 100,000 signatures, and celebs like Dolly Parton and Doja Cat pleaded for its return. The chain eventually answered.
Self-proclaimed "Mexican Pizza devotee" Colette Bennett wrote of her own disappointment for The Street, claiming the "shell has less of the lip-smacking flavor of the original, and the texture has changed a bit as well." While users on Reddit similarly suspected a change, they couldn't put their finger on it.
"They're flatter/thinner, crispier, and closer to a corn tortilla than the old ones," another person added. "The originals were lighter and flakier and didn't taste like corn tortillas."
For its part, Taco Bell is maintaining that the ingredients are the same as before.
"Due to our fan excitement, the Mexican Pizza was returned to our menu in all its previous glory, with seasoned beef and refried beans between two fried flour tortillas, topped with pizza sauce, our 3 cheese blend, and fresh diced tomatoes," a spokesperson for the chain told Thrillist.