Taco Bell Is Unleashing Spicy 'Rattlesnake' and 'Reaper' Nacho Fries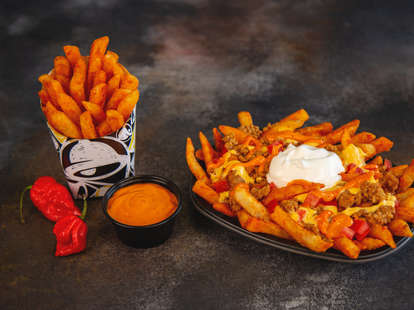 Courtesy of Taco Bell
Courtesy of Taco Bell
The euphoric land of Nacho Fries is getting an upgrade. Taco Bell announced Thursday that it's ratcheting up the heat on its new favorite side dish with two new test items.
Rattlesnake Fries and Reaper Ranch Fries are variants on the much-loved fries that will eat more like a meal. However, unlike plain ol' Nacho Fries, the hilarious names of these seasoned starch sticks tell you absolutely nothing about what they are. So, here goes.
Rattlesnake Fries are a big basket of fries topped with nacho cheese, steak, creamy jalapeño sauce, and pickled jalapeños. Its grim brethren is named after the Carolina Reaper pepper. These spicy fellas are available as fries and sauce or in a "Supreme" version, topped with nacho cheese, seasoned beef, Reaper Ranch sauce, diced tomatoes, and sour cream.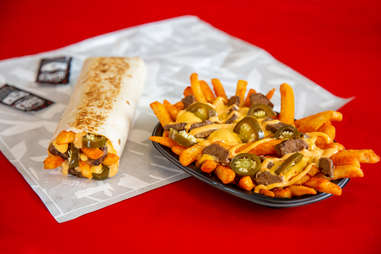 This all sounds great, but there's good news and bad news. The bad news is that, for the time being, these new additions are only available as test items. The Rattle Snake Fries and Rattlesnake Burrito (because you can get that pile of toppings inside a burrito, too) is only available starting August 16 in Columbus, Ohio. The Reaper Fries and Reaper Burrito are only available beginning August 16 in Cincinnati, Ohio. All of the items will stick around until mid-September.
The good news is that Taco Bell also announced it's once again extending the stay of Nacho Fries. Those will now be available nationwide through mid-September. Enjoy them while you can.
Sign up here for our daily Thrillist email and subscribe here for our YouTube channel to get your fix of the best in food/drink/fun.

Dustin Nelson is a News Writer with Thrillist. He holds a Guinness World Record but has never met the fingernail lady. Follow him @dlukenelson.