Taco Bell Is Making Special Thanksgiving Packs Filled With Rolled Chicken Tacos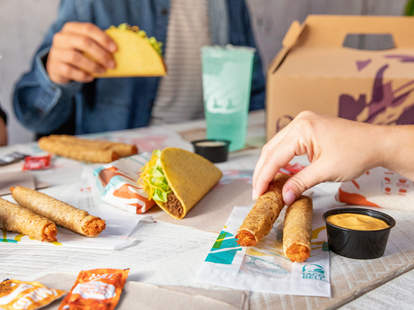 Taco Bell has hurt me a lot this past year. The chain brought back the Triple Double Crunchwrap, only to have it disappear weeks later. They rid the world of Caramel Apple Empanadas, which I'm not sure I'll ever get over or stop talking about. They didn't offer Reaper Ranch a permanent place in their rotation of sauces, which is cruel. 
But there have been shining moments, too. Everyone got free tacos during the World Series and Taco Bell offered up millions of dollars in scholarship money. We even made an entire episode of our inaugural podcast strictly about T-Bell. And, in the spirit of November and Thanksgiving, Taco Bell is bringing back a classic favorite: Rolled Chicken Tacos.
This Thanksgiving -- or Friendsgiving -- instead of pulling up with a tray of dry stuffing, be everyone's favorite slacker and show up with a party pack of Rolled Chicken Tacos. No one will be disappointed, we swear.
"The holidays are filled with all types of gatherings, which is why we are excited to give fans a delicious, craveable and shareable solution delivered straight to their door with the Rolled Chicken Tacos Party Pack," Melissa Friebe, senior vice president of brand marketing and consumer insights at Taco Bell, said in a press release. "Whether fans are getting together for a holiday party, to cheer on their favorite sports team, or even a movie night, this new party pack is the perfect reason to stay in and celebrate a love for tacos."
The Rolled Chicken Tacos party pack comes with six rolled chicken tacos and six crunchy tacos, so be sure to order several party packs to feed all the hungry Taco Bell fans in your life. You'll also have the option of a dip to go with those chicken-stuffed cylinders. Choose from spicy ranch, nacho cheese, or guacamole. The 12 tacos and dip clock in at $10.99, excluding any taxes and delivery fees, according to a spokesperson.
You also can order smaller packs, in case you're having a solo party. A 2-pack with one dip will cost you $1.99, a 4-pack with two dips will ring you up at $3.99, and a combo -- 4-pack with two dips and a large beverage will cost $4.99. Opt for these if you're not feeling up for crunchy tacos (though why wouldn't you be?).
And if you don't even want to leave to get the tacos, fret not. Grubhub is also offering free delivery on the Rolled Chicken Taco Pack beginning November 21, as long as it's your first Taco Bell order and you spend $12. So go ahead and throw in an extra Crunchwrap for yourself -- you deserve it.
Sign up here for our daily Thrillist email and subscribe here for our YouTube channel to get your fix of the best in food/drink/fun.
Kat Thompson is a staff writer at Thrillist. Follow her on Twitter @katthompsonn.