Taco Bell's New Holiday Collection Includes Fire Sauce Onesies, Ornaments & More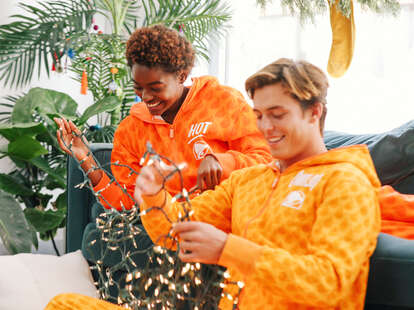 Ah, the holidays. Nothing like cozying up next to a roaring fireplace, sipping a hot chocolate, and getting extra snuggly in your Taco Bell hot sauce onesie. Yup, just as you dreamt, Taco Bell's hot sauce onesies are back for another holiday season -- with a bunch of other T-Bell merch goodies to deck the halls with.
Taco Bell is teaming up with Tipsy Elves, the holiday-themed clothing brand, again to bring Mild, Hot, and Fire sauce onesies once more. Just imagine waking up Christmas morning in matching hot sauce-themed pajamas with your Taco Bell-obsessed partner or relatives. Is this not the dream? I'd even argue that this news is more exciting than the announcement of the chain's brand new tortilla chip-crusted chicken strips.
In addition to the sauce packet jumpsuits, Taco Bell is also serving a 6ft-tall inflatable Fire Sauce lawn decoration; Taco Bell sweaters, jackets, t-shirts, and pajamas; an assorted hot sauce-themed ornament set; greeting cards; and even a snow globe that features the first, extremely retro-looking Taco Bell. You can also turn your entire couch situation into a shrine to Taco Bell with sauce packet throw pillows and burrito wrapper blankets.
All of this, and even more branded Taco Bell goodies, will be available at Taco Bell's Taco Shop beginning November 26. Just a note: the Taco Bell onesies, which clock in at $79.95, sold out in a single day last year.
If you have a Taco Bell fiend in your life, or are looking for the perfect White Elephant present, then look no further. Taco Bell has got you covered -- in a literal burrito blanket -- this holiday season.
Sign up here for our daily Thrillist email and subscribe here for our YouTube channel to get your fix of the best in food/drink/fun.
Kat Thompson is a staff writer at Thrillist. Follow her on Twitter @katthompsonn.