Taco Bell Is Making $1 Buffalo Chicken Tacos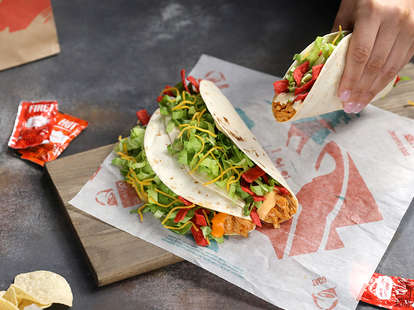 Is the soft taco actually the best thing on the Taco Bell menu? That's debatable. On the one hand, it's a classic and reliable order, but on the other, it's pretty damn boring compared to everything else you can get. Until now. On Thursday, Taco Bell unveiled all-new Shredded Chicken Soft Tacos, featuring customizable sauces like spicy ranch, creamy chipotle, and most notably, buffalo. Yep, buffalo chicken tacos at Taco Bell. Really.
Taco Bell said it's currently testing the new tacos at its location in the Phoenix, Arizona area, with the possibility of launching them nationwide some day. Along with the flavorful sauce of your choice, each taco is made with with shredded chicken, lettuce, crunchy red tortilla chip strips, and shredded cheddar cheese, according to a spokesperson for the chain. While the though of a buffalo chicken taco at Taco Bell is certainly exciting, perhaps the best part of this announcement is the taco's price tag: $1.
If you can't decide between which sauce to get, you can easily try all three without breaking the bank -- or order a $5 box that comes with a Chalupa Supreme, Beefy 5-Layer Burrito, and a medium drink. With only a handful of solid value menu choices to pick from, including the crappy cinnamon twists no one wants, it's refreshing to see Taco Bell providing more flavorful and economical choices.
Unfortunately, it's unclear when Shredded Chicken Soft Tacos will hit Taco Bell locations nationwide, so we'll have to be patient until a national launch allows us to get our hands on that tangy buffalo sauce. That said, it would be easy to customize a soft chicken taco with chipotle sauce to get the feel of it; the downside is you'll be dropping $2.49 on a simple taco rather than a dollar. Release the tacos, T-Bell!
Sign up here for our daily Thrillist email and subscribe here for our YouTube channel to get your fix of the best in food/drink/fun.
Kat Thompson is a staff writer at Thrillist. Follow her on Twitter @katthompsonn.