Taco Bell Wants You to Blend Its Chicken Tacos Into Soup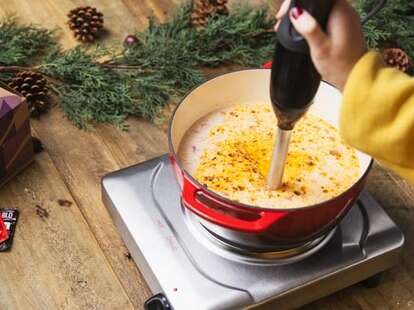 Have you ever choked down your fifth Taco Bell dinner of the week, glanced over at a pristine collection of unused pots and pans, and asked yourself what the hell am I going to feed my future children? Well, Taco Bell itself might have an answer for you, with an easy bisque recipe that requires little to no prior experience in the kitchen. It might earn you a call from child protective services, though.
"Want to bring The Bell to your own Friendsgiving?" The company asks on its blog. "Try making the Rolled Chicken Tacos Bisque using the recipe below."
Taco Bell says our friends (and taste buds) will thank us for creating this innovative blend of... Well, a literal blend of six Rolled Chicken Tacos. It's called the Rolled Chicken Tacos Bisque and -- besides purchasing Rolled Chicken Taco Party Pack -- you only need to grab a few ingredients: some seasoning, tomatoes, whipped cream, and an optional cream garnish.
Taco Bell recently broke the internet with an announcement that it was stripping its menu of nine beloved items.The chain was revamping the menu and changing the combos, but it seems it hasn't stopped combo-ing since. Somebody, somewhere, has been throwing random shit into blenders and self-identifying as part of the food innovation team. And now we have this thing. Soups on, kids.
Sign up here for our daily Thrillist email and subscribe here for our YouTube channel to get your fix of the best in food/drink/fun.