Taco Bell's Giving Out Free Tacos Again for the First Stolen Base at the World Series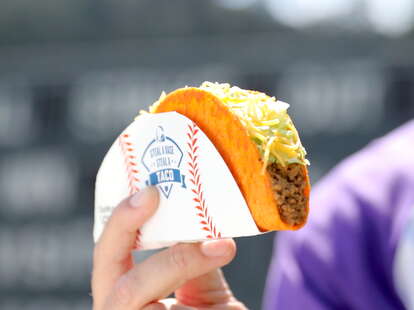 Courtesy of Taco Bell
Courtesy of Taco Bell
After the Los Angeles Dodgers failed in October yet again, I've felt no real desire to watch baseball at the moment. But thanks to Taco Bell's annual "Steal a Base, Steal a Taco" deal, it's still worth paying attention to the World Series this year. If you're like me and slightly bitter about your team's results, there will at least be some free tacos in it for you when a player inevitably steals a base for a first time during the series.
The giveaway, now in its seventh year, is largely the same as previous years. Everyone in America will get a free Doritos Locos Taco after the deal is triggered by the first stolen base. It doesn't matter which game it is or which team achieves the free taco glory -- you're getting a free taco no matter what. The only difference this year is that T-Bell is partnering with BetMGM to give fans a chance to win real money by betting on which player will actually be the first to steal a base. Yes, Taco Bell is taking things up a notch with gambling.
"When it comes to the World Series, rooting for that first stolen base and rejoicing for free tacos has really become the game within the game. So, teaming up with BetMGM to give fans a whole new way to participate in 'Steal A Base, Steal A Taco' felt like a natural extension for us," Will Bortz, director of brand partnerships and sponsorships at Taco Bell, said in a statement. "We can't wait to see fans engage with the program like never before and, of course, we're excited to see if their predictions come true."
Though the betting seems exciting, the promotion with BetMGM is only available for users in Nevada, Mississippi, and New Jersey (where it's legal) through the company's app. But that's fine -- we're mainly here for the tacos anyway.
Taco Bell has yet to reveal what date it'll be giving out free tacos for a stolen base, but rest assured that if you're registered with Taco Bell either online or through their app, you'll be receiving a promotion for a free nacho cheese-flavored Doritos Locos Taco (RIP to Cool Ranch and Fiery).
While I can't muster up any enthusiasm for baseball this October, I can always muster up enthusiasm for free Taco Bell. Let's just hope all the recalled beef at Taco Bell is restocked by game one.
Sign up here for our daily Thrillist email and subscribe here for our YouTube channel to get your fix of the best in food/drink/fun.
Kat Thompson is a staff writer at Thrillist. Follow her on Twitter @katthompsonn.