Get a Free Taco at Taco Bell Right Now, Thanks to a World Series Stolen Base
The Phillies' Kyle Schwarber won fans a free taco when he stole a base in Game 1 of the 2022 World Series.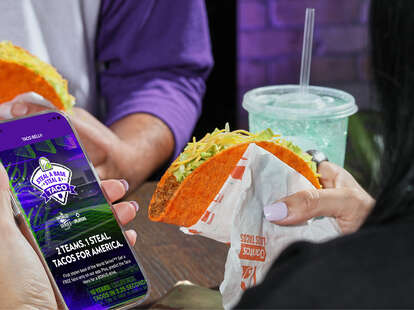 As if we haven't gotten enough free food out of Taco Bell as of late, the Chalupa slinger has brought back its annual "Steal a Base, Steal a Taco" World Series promotion for the 11th consecutive year, and it is already having to pay up with free tacos for fans through November 6.
During Game 1 of the Philadelphia Phillies—Houston Astros series on Friday, Phillies outfielder Kyle Schwarber stole a base during the seventh inning, and the Phillies went on to win the game 6—5. The stolen base meant that fans can now redeem a free Nacho Cheese Doritos Locos Taco anytime during the 10-day period following the game. Taco Bell's World Series free taco deal has now been activated in every Series since 2015, including during Game 1 last year.
In order to redeem the free taco, fans must first ensure they are signed up as Taco Bell Rewards members, and they need to order through the app to redeem the deal. No purchase is required. As an added bonus, anyone who correctly identified Schwarber as the MLB player who would snag the base is now also eligible for a free medium fountain drink via the app. Details on the promotion are available via the MLB's website.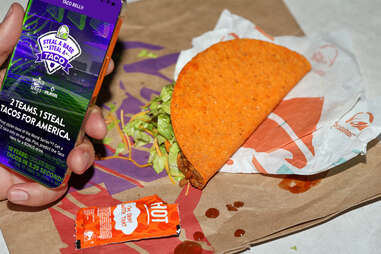 "Consumers are looking for instant access to exclusive experiences and relevant moments. We've combined all of those elements in the biggest update to our SABSAT program since its inception," Global Chief Brand Officer Sean Tresvant said in a press release. "We didn't even have a mobile app when we first launched SABSAT with MLB. Now the Taco Bell app serves as the ticket to exclusive loyalty opportunities during the World Series."
Though the matter of whether you'll get a free Doritos Locos Taco is settled, the winner of the World Series, of course, is not. The Series is continuing Monday night on FOX, as the Astros won Game 2 on Saturday and the teams are currently tied up at 1—1. If you already redeemed your free taco and are looking for some more free grub, a number of national and regional chains are currently running promotions for the Halloween holiday.