Hurry: Taco Bell's Nacho Fries Are Disappearing in One Week
Courtesy Taco Bell
Courtesy Taco Bell
Taco Bell's Nacho Fries, which appeared earlier this year to much fanfare owing to their $1 price tag and delightful pairing with liquid cheese, are set to disappear from the chain's menu next week.
The Nacho Fries debuted on January 25, and quickly became a runaway hit, largely due to their crispy, seasoned finish served with a side of warm nacho cheese dipping sauce. Sadly, following all the of the hype, which included endorsements from a questionably-stoned Mark Hoppus, Taco Bell announced on Friday that customers have one more week to get their hands on the menu item before they go into hibernation.
According to Delish, Taco Bell's plan was to pull Nacho Fries a lot earlier, but because of skyrocketing demand, the fries persisted. The company claims it sold more than 53 million orders of the dish, which per our excellent math, probably generated a decent amount of revenue.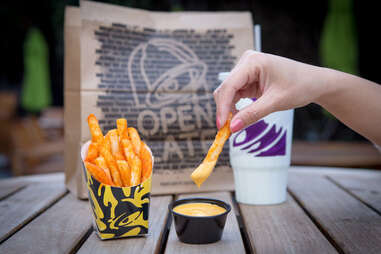 Sign up here for our daily Thrillist email and subscribe here for our YouTube channel to get your fix of the best in food/drink/fun.
 
Sam Blum is a News Staff Writer for Thrillist. He's also a martial arts and music nerd who appreciates a fine sandwich and cute dogs. Find his clips in The Guardian, Rolling Stone, The A.V. Club and Esquire. He's on Twitter @Blumnessmonster.