Taco Bell Used the Super Bowl to Announce a Mysterious Surprise for Bell Lovers
Taco Bell has a mysterious surprise it's giving to rewards members. You'll need to get it done now, though.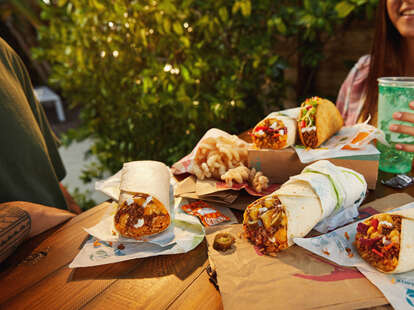 Photo courtesy of Taco Bell
Photo courtesy of Taco Bell
The amount of immediate interaction prompted by Super Bowl commercials is generally limited to a chuckle or a somber nod for the rare tear-jerker. This year, however, there were more that want you to head to a site, scan a QR code, or do some kind of 360-degree thing with the half-time show. Taco Bell stood among that crowd this year.
Taco Bell debuted its Super Bowl commercial during the fourth quarter of the game between the Los Angeles Rams and Cincinnati Bengals. In it, the taco shop promised a surprise for anyone who wants it. Though, you're going to have to wait for a couple of months. Taco Bell tells Thrillist that the reward is coming on May 19, but you'll have to be signed up for Taco Bell Rewards by 11:59 pm PT on February 13 to get the perk.
The image provided to Thrillist is just as vague as the rest of the promotion sounds. The image shows a hand holding a bag from the Bell. No food is pictured. Very few hints are available. Though, it does say, "Something saucy is coming 5/19." So, maybe it's something to do with sauce? (Taps head as though this is a major revelation.)
May 19 is a long way away, especially in the realm of fast food, which we tend to associate with being, well, fast. Menu items arrive at a moment's notice, disappear without a trace, and lunch comes out of a window moments after you order it from the driver's seat of your car. May 19 is a long time from now, but if you sign up for the rewards app now, you can just forget about it. Then the surprise will be a real surprise once it arrives.