Taco Bell Is Making Fried Cheese Curds with a Tortilla Chip Coating
And there's a nacho-style loaded fries option.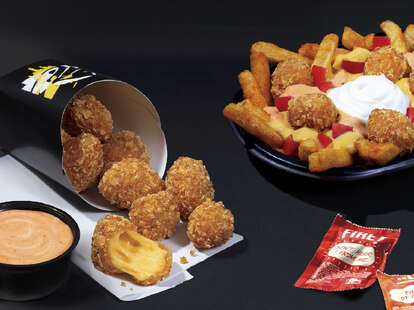 Courtesy of Taco Bell
Courtesy of Taco Bell
Taco Bell recently revealed its unique take on the fried chicken sandwich, a taco-sandwich hybrid held together by a fluffy bread shell. Now, the Mexican-inspired fast food chain is giving us a glimpse at its exciting twists on traditional fried cheese curds, the latest test rollout from its aptly dubbed Learning Labs menu innovation project.
The super-limited launch features two separate menu items, Crispy Cheese Dippers and Crispy Cheese Nacho Fries. Both offerings are made possible by the T-Bell's new cheese curd ingredient, which it makes by taking cheddar cheese curds, rolling them in a tortilla chip coating, and crisping them until golden and crunchy, according to a spokesperson. As you may recall, this is basically the same way the chain prepares its version of fried chicken.
The Crispy Cheese Dippers are served in nine-piece orders with a creamy chipotle dipping sauce for about $3. Meanwhile, the poutine-like Crispy Cheese Nacho Fries feature the dippers nestled on a bed of Taco Bell's Nacho Fries, warm cheese sauce, creamy chipotle sauce, sour cream, and diced tomatoes for the same price. These delightful-sounding test menu items, however, come with some good news and some bad news.
Let's get the bad news out of the way first: Unfortunately, both the Crispy Cheese Dippers and Crispy Cheese Nacho Fries are only available at one Taco Bell location, 131 E. Orangethorpe Ave. in Fullerton, California, through March 10. The good news? Taco Bell said there's a chance they'll eventually arrive on the nationwide menu, adding that while that remains unclear at this point, "we never say never."
The last time we got a peek at a menu creation developed by Taco Bell's Learning Labs project was last summer, when eaters spotted the same Fullerton, California location serving crispy chicken wings. Of course, fried cheese curds and chicken wings seem like departures from the various forms of tacos and burritos the chain typically serves, but that's the point. Learning Labs, according to the spokesperson, is the company's way of trying out fun and unique versions of traditional foods with innovations and embellishments you'd expect from Taco Bell. You know, like a tortilla chip crust.
This isn't the only big news from the 'Bell this month. On March 11, the chain's recently discontinued potatoes ingredient will make a permanent return on the menu, meaning you'll finally be able to once again get your hands on Spicy Potato Soft Tacos and Fiesta Potatoes, among other favorites.
Sign up here for our daily Thrillist email and subscribe here for our YouTube channel to get your fix of the best in food/drink/fun.