Taco Bell Threw a Wild Bash to Celebrate a Local Lady's 106th Birthday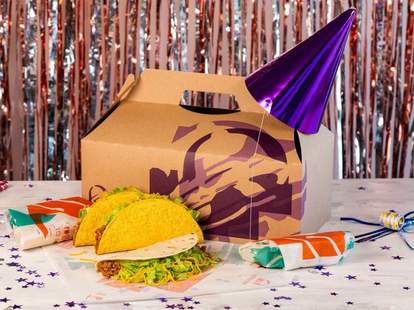 After 21, birthdays are mostly just a bitter reminder that you're one step farther from youth, and one step closer to cataracts and oblivion. Until you hit 100, that is. After that, every day is a reminder that you have kick-ass genes, and you outlived all your exes.
For most folks who have lived a century, birthdays are no longer prime time for sake bombs and dance floor make-outs, but still, celebration is in order. And for Arizona's own Myrtis Jewel Painter (yes, that is her real name), there's no better way to ring in 106 than with a meal at Taco Bell. In fact, Painter is such a beloved regular customer, the good folks at her local Taco Bell in Phoenix dressed up the restaurant and threw her a birthday bash, where she enjoyed an enchilada and a taco as her birthday meal.
"I think Taco Bell is a good place to come to, I really do," Painter told local TV station, KPHO/KTVK-TV. Indeed, it is.
Esteemed owner of the Taco Bell franchise, Gleg Gladden (yes, that is also his real name), was overjoyed to host Painter on her birthday, being that she has been a hopelessly devoted customer for that past nine years.
"At 106? And they want to come to Taco Bell? And hang out with me?" he said. "It's just amazing."
It's fairly unlikely that Painter spent her birthday at Taco Bell with the intention of celebrating with Gladden, specifically -- but we'll let him have that one.
Here's to hoping we're all tackling enchiladas -- or secret Chili Cheese Burritos -- with our local Taco Bell employees come 106.
Sign up here for our daily Thrillist email and subscribe here for our YouTube channel to get your fix of the best in food/drink/fun.