Taco Bell's Cheesiest Chalupa Ever Comes With Cheddar Baked Into the Shell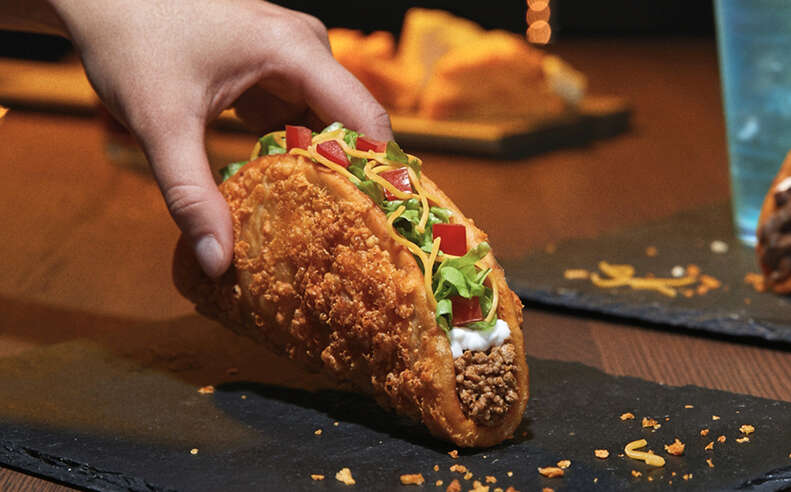 While nothing's going to adequately fill the Cool Ranch Doritos Locos-shaped hole in your heart when Taco Bell removes nine items from its menu next week, it turns out the chain is unleashing its "biggest food innovation of the year" on the same day -- as if to help you recover from the heartbreak. No, your life is never going to be the same without Cool Ranch bay at your side, but it's going to be... cheesy. Extremely cheesy.
Taco Bell calls it the Toasted Cheddar Chalupa and with a bunch of cheese baked right into its shell, it's easily "the cheesiest Chalupa yet" (is that a threat?), the chain announced on Wednesday. The company's stunt food maniacs already cooked up taco shells made out of fried chicken and even a whole fried egg, so a shell infused with cheese seems like a fitting follow-up, albeit just a tad tame in comparison.
The shell isn't made entirely out of cheese, but it looks like it's pretty damn close. Specifically, Taco Bell takes six-month aged sharp cheddar cheese and toasts it onto a Chalupa shell, resulting in what's described as "a crispy blanket of flavor and texture" and "a whole new cheese experience." But just like a regular ol' Chalupa, the Toasted Cheddar Chalupa comes filled with your choice of ground beef, chicken, or steak as well as lettuce, tomatoes, more cheddar cheese, and sour cream on top. Weirdly, it doesn't come with nacho cheese sauce inside, which seems like a missed opportunity at achieving peak cheese -- something we should all aspire to every day, honestly.
The Toasted Cheddar Chalupa lands at T-Bells across the United States (including Puerto Rico), Canada, and several other countries on September 12, the same day as the aforementioned menu culling. Prior to the international rollout, the company tested the cheesy creation as recently as October of 2018 at locations in Flint, Michigan. Before that, it also appeared on the breakfast menu (filled with eggs and bacon or sausage instead of beef, etc.) at select locations in West Virginia.
Speaking of test launches, Taco Bell said it's also rolling out a special Bacon Club Toasted Cheddar Chalupa alongside the regular Toasted Cheddar Chalupa at locations in Charlotte, North Carolina. The BLT-like version is made with chicken, avocado ranch sauce, lettuce, tomatoes, cheddar cheese, and bits of bacon. If it's a hit among eaters in Charlotte, there's a chance it'll end up on the nationwide menu someday.
The life lesson here? The fast food gods giveth, and the fast food gods taketh away. But mostly giveth.
MORE: Behind the scenes in Taco Bell's insane food development lab
Sign up here for our daily Thrillist email and subscribe here for our YouTube channel to get your fix of the best in food/drink/fun.