Taco Bell's New Luggage Collection Looks Just Like Its Hot Sauce Packets
It includes a Diablo crossbody bag.
Courtesy of Taco Bell
Courtesy of Taco Bell
Taco Bell has become nearly as synonymous with merch as it is the Chalupa or Quesarito. The fast food chain has launched a collection with Forever21, created sauce packet bikinis, and is now rolling out a line of luggage.
In partnership with CALPAK, Taco Bell is releasing a capsule collection designed to look just like its fan-favorite hot sauce packets. The lineup, which comes just three years after the brand's own immersive travel experience, The Bell: A Taco Bell Hotel & Resort, will be available exclusively from CALPAK and Taco Bell's Taco Shop beginning April 26.
The collection features the FIRE! carry-on suitcase that was created to fit in the overhead compartment perfectly; the HOT! duffel bag with shoe storage and a removable crossbody strap; the DIABLO! crossbody bag that includes a zippered front and interior pockets; and finally, the MILD! 5-piece packing cube set that even comes with a waterproof envelope.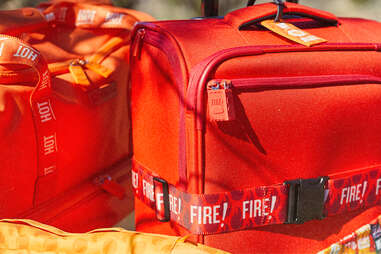 "We've seen our fans express their Taco Bell fandom through so many avenues like makeup, fashion, tattoos, and now they have the opportunity to show their brand love on their next adventures," Taco Bell's head of brand creative Tracee Larocca said, according to Travel + Leisure. "We hope our collection with Calpak inspires our fans to 'Live Más' wherever they are, or are going, in the world."
Since you'll need to fill your luggage, the Taco Shop will release its entire summer collection, such as those classic sauce packet beach towels and koozies, on May 3.