Taco Bell's Enormous 'Triple Double' Crunchwraps Are Back, Along With a New Version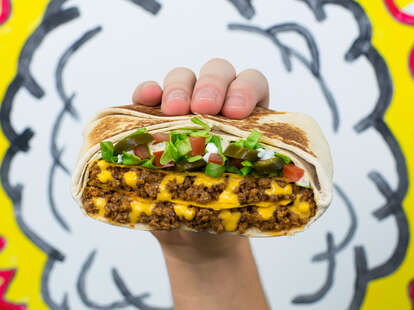 Courtesy of Taco Bell
Courtesy of Taco Bell
With Taco Bell's focus on the return of its wildly popular Nacho Fries this summer, we've reached the point now where it's been an unusually long time since the chain unleashed some sort of giant, meat- and cheese-stuffed stunt food. But thankfully, it looks like there's some hope for your deepest and darkest Doritos Locos-level cravings, now that Taco Bell is again unleashing its enormous Triple Double Crunchwraps at locations across the country.
For the third time in the last two years, most Taco Bell locations in the United States are now serving the Triple Double Crunchwrap, along with a new, spicy chipotle version, according to a report by Chew Boom. As its name suggests, the Triple Double Crunchwrap is made with double the amount of three regular Crunchwrap ingredients: a double layer of beef, a double layer of nacho cheese sauce, and a double layer of the crunchy tostada shell inside. Honestly, they could have just called it the "Huge Ass Crunchwrap."
The chipotle version, or the Chipotle Triple Double Crunchwrap, is made with exactly the same ingredients, but with the addition of spicy chipotle sauce. Last year's spicy version featured jalapeños for the added heat. Of course, you can never go wrong with squirting some Fire Sauce on either version.
T-Bell said you can get the giant Crunchwraps either separately or as part of a $5 Triple Double Crunchwrap Box, which also includes two Crunchy Tacos and a medium fountain drink. It's unclear, though, how long they'll stick around on the menu this time, so maybe get on that soon... or wait until next time.
Sign up here for our daily Thrillist email and subscribe here for our YouTube channel to get your fix of the best in food/drink/fun.