One of Taco Bell's Best & Beefiest Menu Items Is Finally Back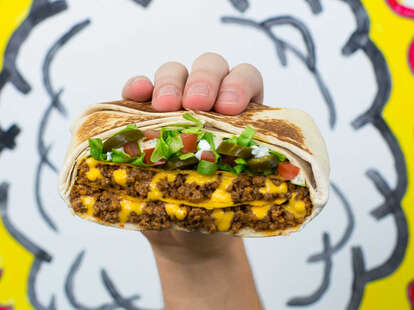 Courtesy of Taco Bell
Courtesy of Taco Bell
I'd like to introduce you to, for not the first -- but fourth -- time ever, the Triple Double Crunchwrap Supreme. It's Taco Bell's beefier, cheesier answer to our prayers for even bigger Crunchwraps. It's like if the regular Crunchwrap Supreme had a way buffer, cooler older sibling that traveled the world and returned home to swooning and cries of adoration from everyone, every time. We're so happy for its glorious homecoming.
The giant package that is the Triple Double Crunchwrap is stuffed with double the amount of nacho cheese sauce, crunchy tortilla shells, and seasoned beef. It's essentially a meat and cheese-lovers delight, with a gentle sprinkling of diced tomatoes, shredded lettuce, and sour cream for good measure.
The last time I had a Triple Double Crunchwrap Supreme was about a year ago. It was deeply fulfilling, satisfyingly savory, and unforgettable. I liked it so much that I returned to Taco Bell a week later to get another one, only to find that the Triple Double Crunchwrap had already left the building, leaving nothing behind but a treasured memory of its taste and hexagon-shaped hole in my heart. Yes, I was ghosted by a Taco Bell item.
Taco Bell hasn't shared how long the Triple Double Crunchwrap Supreme will be available on menus this time, but if I know anything about Taco Bell and this particular menu item, it won't be that long. You can get your Triple Double Crunchwrap in a $5 meal deal or solo for $3.49.
Don't get burned -- there's still time to fall in love with the beefier, cheesier Crunchwrap. But beware: It may just leave you longing for something more. You know, like a permanent spot on the Taco Bell menu.
Sign up here for our daily Thrillist email and subscribe here for our YouTube channel to get your fix of the best in food/drink/fun.
Kat Thompson is a staff writer at Thrillist. Follow her on Twitter @katthompsonn.