Taco Bell's New Triplelupa Boasts a Huge 9-Inch Shell and 3 Flavors Inside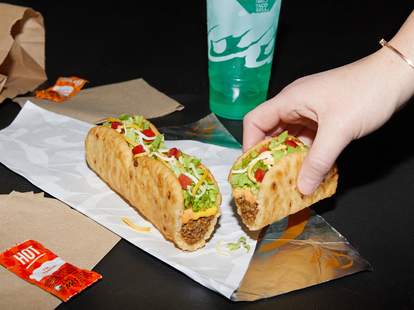 You know what they say: triple the Chalupa, triple the fun. OK, no one actually says that, but maybe they should now that Taco Bell is launching its all-new Triplelupa nationwide. 
Just as its name suggests, the Triplelupa consists of three mini Chalupas connected to one another Human Centipede-style, each boasting its own distinctive flavor: nacho cheese, chipotle, and nacho cheese and chipotle, a spokesperson told Thrillist. Each Triplelupa contains double the seasoned beef of a regular Chalupa.
This is Taco Bell's first tear-apart menu item -- unless, of course, you count tearing apart your quesadillas, but I digress. After testing the Triplelupa back in 2018 and 2019, we're happy that this long boy has finally arrived, doused in nacho cheese and Taco Bell's glorious and spicy chipotle sauce.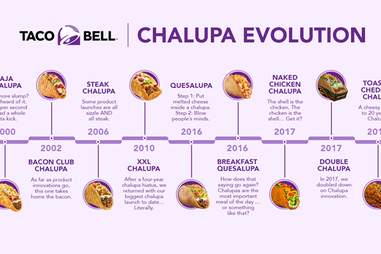 Courtesy of Taco Bell
"At Taco Bell, we recognize and love the fandom that the Chalupa has cultivated over the years, and it's why we want to bring our fans an all-new flavor and shell experience with the Triplelupa," Kristine Futalan, associate manager of research & development at Taco Bell and lead product developer behind the Tripelupa, said in a statement. "The Triplelupa's nationwide launch gives us the opportunity to celebrate the transformation of this beloved menu item, and we can't wait for everyone to taste this latest innovation."
You can get your very own 9-inch long Triplelupa beginning on March 12 for $3.59 at Taco Bell outposts nationwide, but only for a little while. Maybe Taco Bell can do a Triplelupa using the Toasted Cheddar Chalupa shell, or a breakfast Triplelupa, or a plant-based Chalupa, or a triple Naked Chicken Chalupa next. The possibilities are as infinite as Taco Bell's endless fountain of Baja Blast.
Sign up here for our daily Thrillist email and subscribe here for our YouTube channel to get your fix of the best in food/drink/fun.
Kat Thompson is a staff writer at Thrillist. Follow her on Twitter @katthompsonn.