Taco Bell's New 'Veggie Mode' Automatically Makes Everything on the Menu Vegetarian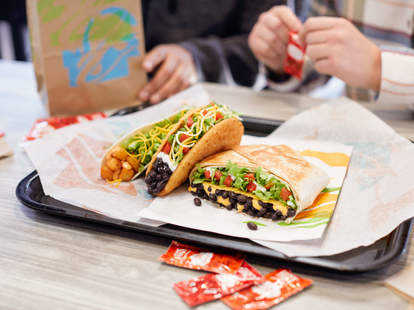 It's always been easy to order a plant-based meal at Taco Bell. You can swap beef for beans, trade sour cream for pico de gallo, or sub out chicken for potatoes. Taco Bell is even experimenting with plant-based meats and pulled oat tacos. It's why Taco Bell is one of the most sought-out fast food chains for vegetarians, and it's about to get even better.
Even though it already launched a menu entirely devoted to vegetarians, Taco Bell has found a new way to cater to plant-based diets. On Monday, the chain announced the launch of Veggie Mode, a new way to order at Taco Bell's kiosks created specifically with vegetarians in mind that is slated to arrive on March 12. With a single swipe, Veggie Mode will display only vegetarian options, almost 50 of which are certified by the American Vegetarian Association (AVA). Even more exciting? For the first time ever, potatoes are now an AVA-approved ingredient at Taco Bell.
"We've been doing vegetarian for a long time, but that is not enough for us. People should be given more options than one plant-based choice," Missy Schaaphok, Taco Bell's global nutrition and sustainability manager, said in a press release. "With veggie mode, we are proud to make it even easier to order delicious plant-based options."
Even with Veggie Mode on, customers can still customize their vegetarian dishes to their preferences. If you're not eating meat but still love dairy, feel free to add nacho cheese and sour cream. If you're entirely vegan, you can nix the shredded cheese. Vegetarian or not, Taco Bell and Veggie Mode makes plant-based diets easy, which is exactly what fast food should be.
Sign up here for our daily Thrillist email and subscribe here for our YouTube channel to get your fix of the best in food/drink/fun.
Kat Thompson is a staff writer at Thrillist. Follow her on Twitter @katthompsonn.