This Bride-To-Be Made a Wedding Dress Entirely Out of Taco Bell Wrappers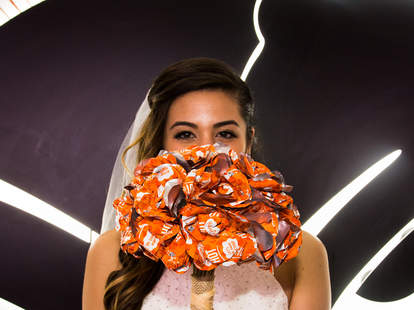 Although you may hit up your local Taco Bell for a simple bag of late-night Crunchwraps or to subject your digestive system to its latest viral stunt food, some people -- believe it or not -- go there to get married. In fact, one bride-to-be wants to get married at T-Bell so badly that she created a wedding dress entirely out of the chain's food wrappers. Really.
Diane Nguyen constructed the dress out of a staggering 200 Taco Bell wrappers as part of her bid to win Taco Bell's "Love and Tacos" contest with her fiancé, Nick Ward, according to a report by The Huffington Post. If the couple receives the most votes, they'll win an all-expense paid trip to Las Vegas to become the first people to get married at Taco Bell's massive flagship restaurant this summer. Voting ends at midnight ET on Sunday. 
In case you're wondering, she didn't just stitch together food-stained wrappers from a bunch of late-night taco runs. A Taco Bell restaurant provided hundreds of the wrappers for the dress and they were, thankfully, unused. Nguyen revealed the dress in a Taco Bell pun-filled wedding announcement on Instagram:
"It's time to spill the beans," she said in the post (shown below). "We have been engaged for 4 years, and together for 10. Taco Bell has been there through the years, from the after school runs, to late meals after work (or a night of partying). Our love for each other is as cheesy as a quesadilla. We're nachos getting married, it's going to be a Las Vegas tacover. Lettuce celebrate our love at the Taco Bell Chapel in Vegas, cuz we are ready to guac and roll."
Unsurprisingly, it didn't take long for Nguyen and her dress to go viral -- almost as viral as the Naked Chicken Chalupa. 
As you can see, the dress is pure Fire Sauce. All Ward needs to do is make a tux out of Doritos Locos Tacos holders.
Sign up here for our daily Thrillist email, and get your fix of the best in food/drink/fun.
Tony Merevick is Cities News Editor at Thrillist and go totally go for some T-Bell right about now. Send news tips to news@thrillist.com and follow him on Twitter @tonymerevick.