Here's Every Single Thing on Taco Bell's $1 Menu in 2020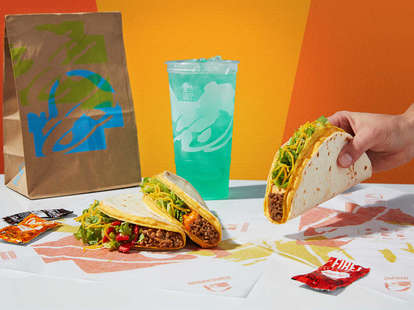 Courtesy of Taco Bell
Courtesy of Taco Bell
Later this month, Taco Bell's $1 Double Stacked Tacos will make their triumphant return to the chain's nationwide menu, but these Nacho Crunch-, Chipotle Cheddar-, or Reaper Ranch-flavored meat canoes aren't the only ultra cheap options you can get on your late-night fast food taco run. While other fast food chains have reigned in their respective dollar menus, T-Bell maintains an extensive lineup of $1 items. In fact, it promises to offer 21 different options you can get for a buck in 2020.
Taco Bell officially unveiled it's $1 menu this week, highlighting the return of the $1 Double Stacked Tacos. While the 21-item menu may sound new, most of the options have been on the menu for at least a few months now, according to a spokesperson for the chain. And according to me, the 2020 lineup is better than ever. Here it is:
Everything you can get for $1:
Double Stacked Taco -- Nacho Crunch
Double Stacked Taco -- Chipotle Cheddar
Double Stacked Taco -- Reaper Ranch
Beefy Fritos

Burrito
Cheesy Bean and Rice Burrito
Shredded Chicken Quesadilla Melt
Cheesy Roll Up
Cinnamon Twists
Spicy Potato Soft Taco
Spicy Tostada
Triple Layer Nachos
Cinnabon Delights --

2 pack
Grilled Breakfast Burrito -- Sausage
Grilled Breakfast Burrito -- Bacon
Grilled Breakfast Burrito Fiesta Potato
Breakfast Soft Taco -- Sausage
Breakfast Soft Taco -- Bacon
Sausage Flatbread Quesadilla
Hash Brown
Mini Skillet Bowl
Mountain Dew

Kickstart
"It's more important than ever before that we give fans the craveable food they not only want, but can afford, and we've built our menu with some of our most innovative items from $1 to $5 to ensure there is something for everyone," Senior Vice President of Brand Marketing and Consumer Insights Melissa Friebe said in a statement. "Committing to the $1 is a priority for us."
You could have one of everything and still only spend $21 (plus tax, of course). Don't even try the whole new year, new diet thing -- unless "new diet" means more Taco Bell.
Sign up here for our daily Thrillist email and subscribe here for our YouTube channel to get your fix of the best in food/drink/fun.
Megan Schaltegger is a staff writer at Thrillist. Follow her @MegSchaltegger.