Taco Bell's New Breakfast Taco Has a Shell Made out of Fried Egg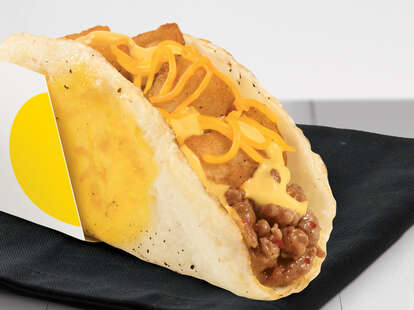 When Taco Bell stopped serving the much-hyped Naked Chicken Chalupa about a month ago, it was only a matter of time before the fast food chain unleashed yet another absurd yet delicious-looking creation from its stunt food development lab. Well, it looks like that time has come now that T-Bell has unveiled a new breakfast taco sporting a shell made out of fried egg, along with a few other ridiculous new menu items.
Taco Bell calls it the Naked Breakfast Taco and it's made by stuffing sausage crumbles (or bacon), potato bites, nacho cheese, and shredded cheddar into a shell made entirely out of a fried egg. Basically, the stunt food maniacs took the "innovative" fried chicken taco shell concept of the Naked Chicken Chalupa and brilliantly -- if not inevitably -- applied it to breakfast. A spokesperson said the chain will test the open-face omelette of sorts in Flint, Michigan, starting on April 18. You can also get a "dressed" version wrapped in a Gordita flatbread, you know, for modesty (and probably clean hands).
But that's not all T-Bell has in store this spring. The chain also announced a new burrito that's available nationwide and a new take on its iconic Mexican Pizza. Here's the full rundown of what you can expect:
Loaded Taco Burrito
Just as its name suggests, this menu item blurs the line between taco and burrito by stuffing all the ingredients of a taco inside of a burrito. Taco Bell makes the mashup by taking classic taco fillings, tortilla strips, lettuce, and tomatoes, then wrapping all of it up in a tortilla like a typical burrito. You can get your hands on one at the chain's restaurants nationwide as of Thursday, April 6, which happens to be National Burrito Day.
Mexican Crispy Chicken Pizza
Despite discontinuing the Naked Chicken Chalupa, it looks like Taco Bell isn't done experimenting with fried chicken. The chain is testing a new twist on its ever-popular Mexican Pizza that's made with a regular Mexican pizza shell, nacho cheese sauce, a piece of crispy chicken, Mexican pizza sauce, a three-cheese blend, and pico de gallo. T-Bell locations in Columbus, Ohio started serving the pizza-fried chicken hybrid on April 6.
Sign up here for our daily Thrillist email, and get your fix of the best in food/drink/fun.
Tony Merevick is Cities News Editor at Thrillist and just got really hungry for breakfast food. Send news tips to news@thrillist.com and follow him on Twitter @tonymerevick.