If you were thinking about making Chateau Louis XIV your totally humble (and not insanely ridiculous at all) abode, it looks like you'll just have to settle for some other enormous French palace or mega mansion estate. The massive 17th Century-inspired villa just outside of Paris has, unfortunately, been sold -- breaking the world record for the world's most expensive home at a chandelier-rattling $301 million. Well, crap.
The villa, which would make even the monarch it was named after blush, is located on 56 acres of park, just a precious stone's throw away from the actual Palace of Versailles, according to a report by Bloomberg. The house itself features basic amenities like a cinema, wine cellar, an aquarium, and high-tech controls built into the elaborate decor. Outside, there's a fountain covered in gold leaf and even a freaking hedge labyrinth, you know, for when you're entertaining. A short video will give you a glimpse of the place, if you want to subject yourself to that.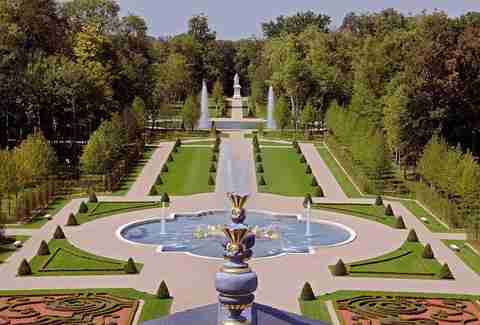 Additionally, this is the same house that Kim Kardashian reportedly scouted as a potential venue for her wedding to Kanye West, before she decided on an Italian fort. So, make what you will of that.
The home, which took three years to construct, was sold in a private deal to a Middle Eastern buyer through Christie's International Real Estate, per the report. The record for the world's most expensive home was previously set when a London penthouse was sold for roughly $221 million back in 2011, which seems like a bargain in comparison. Hopefully, there's at least one room in Chateau Louis XIV for the mysterious buyer's stacks of money. 
Sign up here for our daily Thrillist email, and get your fix of the best in food/drink/fun.
Tony Merevick is Cities News Editor at Thrillist and wouldn't buy it unless it comes with a roller coaster, like Richie Rich's house. Send news tips to news@thrillist.com and follow him on Twitter @tonymerevick.