Nobody Will Believe This Tapas Dinner Party Was Only $30
Are you low on cash but still want to party like a baller? Well, we're here to help. Welcome to
$30 Dinner Party
, Thrillist's brand-new series created to help people just like you throw killer dinner parties for very little money. Join host Lee Kalpakis as she creates special recipes for you to wow your friends and family on the cheap with new episodes every Monday at 2pm ET on Thrillist's YouTube channel.
While you can almost never go wrong with dishes like tacos or barbecue, it turns there's an even better way to pull off an easy dinner party on a tight budget that will blow away your friends: tapas. The assortment of small dishes could very well be your new secret weapon for entertaining when cash is tight. We'll show you how to do it. 
In this week's episode of Thrillist's new series $30 Dinner Party, host Lee Kalpakis heads to Park Slope, Brooklyn to meet up with guest, Zaneta Pereira, who's hoping to prepare an affordable dinner inspired by her travels for her friends. As a busy Atlas Corps fellow, Zaneta is short on time and doesn't want to spend too much cash on ingredients, but still wants to impress everyone with delicious food. Lee has the perfect plan in mind: a tapas menu of tortilla Española with red pepper aioli, fried stuffed olives, marinated sardines served with potato chips, pan tomate, and kalimotxo to help wash it all down.
Check out the episode (shown above) to watch Lee and Zaneta plan the meal, pick up all the necessary ingredients at the grocery store, cook each dish together, and serve a table full of tapas to stellar reviews from her friends. Perhaps the best part? All of the food was super easy to make and super inexpensive. In fact, the entire meal -- four dishes and drinks -- cost just $29.87. It's proof that you can have a damn-good dinner party without breaking the bank. You're welcome.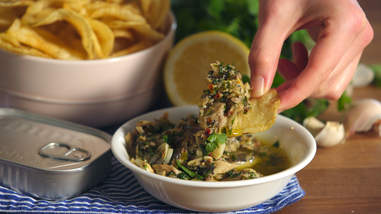 Thrillist Video
Grocery list with prices
1 can black olives -- $1.89
1 container crumbled feta -- $2.69
1 bunch parsley -- $1.29
2 pounds yukon gold potatoes -- $2.58
1 large yellow onions -- $0.75
1 can roasted red peppers -- $2.30
1 dozen eggs -- $2.50
1 tin sardines -- $1.49
2 lemons -- $1
1 bags kettle cooked potato chips -- $1.69
1 (20-ounce) cola -- $1.50
1 bottles red wine -- $6
1 baguette -- $1.69
2 roma tomatoes -- $2.50
Total price: $29.87
Pantry staples you'll need
Salt
Pepper
Oils
Vinegars
Garlic
Cayenne
Garlic powder
Oregano
Paprika
Ketchup
Hot sauce
Flour
Sugar
Butter
Baking powder
Baking soda
Vanilla
Cinnamon
Red pepper flakes
thrillist video
Tortilla Española
INGREDIENTS:
½ cup plus 2 tablespoons olive oil
1 large yellow onion, diced
3 cloves of garlic, minced
3 Yukon gold potatoes, about 2 pounds, sliced into rounds
½ cup roasted red peppers, chopped
8 eggs
Kosher salt
DIRECTIONS:
Preheat oven to 375.
Heat oil in a 10- or 12-inch non-stick skillet to medium-high heat. Add onions and garlic to the pan, then toss with potatoes until all are coated in oil. Cover and cook until potatoes are tender, about 10 minutes.
Meanwhile, in a large bowl, beat eggs thoroughly. Add salt and roasted red peppers. Remove potato mixture from pan with a slotted spoon to drain any excess oil. Add potatoes to the egg mixture and stir until egg is evenly incorporated.
Wipe out non-stick skillet. Heat 2 tablespoons olive oil in the skillet over medium heat. Pour egg and potato mixture into pan and cook about 1-2 minutes (or until the egg starts to set), then transfer to the oven and bake for 15-20 minutes, or until egg is completely set.
Let cool for 2-3 minutes, and then invert onto a platter or cutting board. Cut into wedges and serve warm or at room temperature.
Red pepper aioli
INGREDIENTS:
2 cloves garlic
2 roasted red peppers (about ⅓-½ cup)
2 egg yolks
1 tablespoon lemon juice
1 cup olive oil
Kosher salt
DIRECTIONS:
In a food processor or blender, pulse together garlic and red pepper, until both are chopped into a paste. Add egg yolks and lemon juice and keep motor running while very slowly streaming olive oil into the mixture.
Once the oil is all combined, season to taste with salt.
Serve on toast, or as a condiment for tortilla Española or other dishes.
Fried stuffed olives
INGREDIENTS:
1 jar pitted black olives
½ cup crumbled feta
2 tablespoons parsley, chopped
1 teaspoon crushed red pepper flakes
1 tablespoon olive oil
2 teaspoon freshly cracked black pepper
1 teaspoon kosher salt
1 cup all-purpose flour
1 egg, beaten
1 cup bread crumbs
Vegetable oil for frying
DIRECTIONS:
Drain olives, remove any broken pieces, and set aside.
In a small mixing bowl, combine feta, parsley, red pepper flakes, olive oil, and pepper.
Using a small spoon and your fingers, stuff each olive with feta mixture.
In a Dutch oven, heat vegetable oil over medium-high to about 365.
Season the flour with 1 teaspoon salt and 1 teaspoon pepper. Dip each olive in the flour, beaten egg, roll in breadcrumbs, and drop into the oil. After about 30 seconds per side, or when the olives are golden brown, remove olives with a slotted spoon, transfer to a paper towel-lined plate to remove any excess oil, and serve immediately or at room temperature.
thrillist video
Marinated sardines
INGREDIENTS:
¼ cup olive oil
1 (3.75 ounces) tin sardines in olive oil
2 cloves garlic, sliced
1 teaspoon red pepper flakes
Juice and zest of half a lemon
¼ cup parsley, chopped
Kosher salt
Freshly cracked black pepper
Potato chips, for serving
DIRECTIONS:
Pour olive oil into a medium skillet over medium heat. Once the oil is hot, add sardines, garlic and red pepper flakes. Let cook until garlic softens, about 2 minutes.
Take off the heat and add lemon zest, lemon juice, and parsley. Transfer sardines to a bowl.
Top a potato chip with a sardine and enjoy!
Pan tomate
INGREDIENTS:
1 baguette
4 cloves garlic, cut in half
1 large ripe beefsteak tomato, or two ripe roma tomatoes
Olive oil
Kosher salt
DIRECTIONS:
Preheat broiler to high.
Cut the baguette in half lengthwise, then cut each half into 3-inch pieces. Place bread on a baking sheet and drizzle with oil. Broil until bread is slightly charred. Once the bread is toasted, rub each slice -- toasted side -- with the cut side of the garlic.
Meanwhile, grate the tomato on the large hole of a box grater; discard any skin that doesn't easily grate.
Spoon tomato mixture over the garlic-rubbed bread. Sprinkle with salt and serve immediately.
Kalimotxo
INGREDIENTS:
1 (20-ounce) bottle cola
1 (750-milliliter) bottle red wine
Ice, for serving
lemon peel, for garnish
DIRECTIONS:
In a large pitcher, combine cola and red wine. Pour into a glass with ice. Top with lemon peel.
Repeat with remaining drink.
Do you live in the NYC area and want to throw a killer dinner party but don't think you can afford it? Well, let us help you out! We're looking for our next guest to be featured in $30 Dinner Party. Our host will create special recipes for you to wow your friends and family at an ultimate dinner party. If you're interested in being a featured guest on the show, email casting@thrillist.com with your story!
Sign up here for our daily Thrillist email and subscribe here for our YouTube channel to get your fix of the best in food/drink/fun.


Tony Merevick is Senior News Editor at Thrillist and would love to have some of that delicious tomato bread right about now. Send news tips to news@thrillist.com and follow him on Twitter @tonymerevick.