Target Just Debuted a Line of $5 Wines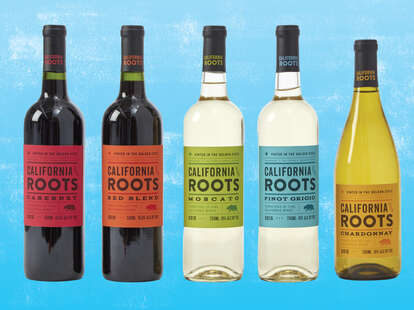 Maggie Rossetti/Thrillist
When it comes to crazy-cheap wine, it's hard not to think of your longtime standby bottle of "Two Buck Chuck" from Trader Joe's, or maybe that $10 rosé helping you get through summer. But it looks like adulting is about to get even easier now that Target is throwing its cork into the inexpensive wine ring by launching a line of wines that are just $5 a bottle.
Target first revealed the exclusive new wine collection, California Roots, on Monday, as part of its ongoing efforts to revamp its stores with new brands. The lineup features just five wines -- Cabernet Sauvignon, Red Blend, Chardonnay, Pinot Grigio, and Moscato -- made with what the company describes as "premium, California-grown" grapes. All five are priced at $5, and all five will hit more than 1,100 Target stores able to sell wine (sorry NYC) across the country on September 3. Now would be a good time to make some room on your wine rack.
Here's how Target describes each wine:
Cabernet Sauvignon: Juicy cherry flavors, hints of oak and graceful finish elevate even the simplest pleasures. Pair with ribeye steaks.
Red Blend: Smooth berry and cherry flavors with hints of spice offer the perfect antidote to the workweek. Pair with mushroom pasta and grilled vegetables.
Chardonnay: Lush tropical fruit flavors and a bright finish will transport you to a warm, sunny day at the farmers market. Pair with cheeses and freshly baked bread.
Pinot Grigio: Vibrant citrus and tropical fruit flavors let you enjoy the fresh, easygoing feeling of summer any time of the year. Pair with salads and fresh fish.
Moscato: Delicate aromas and creamy peach and melon flavors make every day feel a little more special. Pair with freshly picked berries.
How good the wines actually taste remains to be seen, but by now, you probably have a good sense of what you're getting into when you uncork a $5 bottle. Oh, and it's worth pointing out that the news comes on the same day Amazon introduced a slew of discounts on items like avocados, eggs, and meats at Whole Foods, meaning you may yet have a chance at buying a home someday after all. Cheers to that.
Sign up here for our daily Thrillist email and subscribe here for our YouTube channel to get your fix of the best in food/drink/fun.

Tony Merevick is Senior News Editor at Thrillist and could go for a nice glass of red blend right about now. Send news tips to news@thrillist.com and follow him on Twitter @tonymerevick.