We Tried Cold Stone's 2 New Fudgy Holiday Flavors
Can there ever be too many ingredients in an ice cream flavor?
Photo by Janae Price for Thrillist
Earlier this month, Cold Stone Creamery announced that they'd be working with Moose Tracks Fudge to drop two new holiday flavors. Despite being lactose intolerant, most of my weaknesses contain dairy. Specifically, cheese and ice cream. Naturally, the opportunity to try Cold Stone's new Deck the Halls and Strawberried in Fudge flavors seemed too delicious to pass up. I'm a masochist, what can I say?
The first new ice cream flavor, Deck the Halls, takes a base of Cake Batter ice cream made with Moose Tracks fudge and combines the mixture with brownies and holiday sprinkles. The second flavor, for strawberry shortcake lovers, features Cake Batter ice cream made with Moose Tracks fudge, mixed with strawberries, yellow cake, and holiday sprinkles.
I was curious to see whether, one, these two new holiday ice cream flavors would make me feel like decking the halls with boughs of holly, and two, would the many, many ingredients in each flavor work well together?
First Impressions:
I have to start this off by acknowledging two very important things. I DoorDash-ordered the ice cream. So by the time the paper cup-packaged ice cream got to me, it was a little melted already and not as pretty as I imagine it would have been had I actually gone to my local Cold Stone. Both ice creams I ordered also did not come with holiday sprinkles, but with rainbow sprinkles. Pretty, but less festive. Visually, I was really impressed with the Strawberried in Fudge flavor. Right when I popped off the lid I was met with hunkin' chunks of yellow cake and real whole strawberries.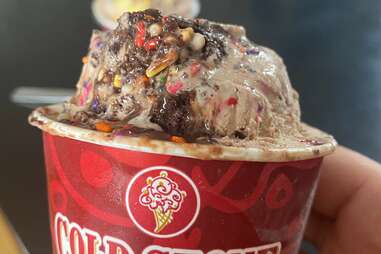 A few spoonfuls later:
Because I was so excited about the presentation of Strawberried in Fudge, I decided to save it for last and try Deck the Halls first. My first bite tasted like a decadent chocolate party, though I wouldn't exactly have been able to place a cake batter flavor. Upon my second bite, however, the Cake Batter ice cream began to shine through. In fact, it gave a deeper flavor profile to the ice cream than if it had been made with regular vanilla ice cream. The texture of the brownie chunks really kicked things up a notch for me, too. As a chocolate lover, I would say Deck the Halls is for people who love a decadent chocolate dessert.
Strawberried in Fudge, on the other hand, with its yellow cake and whole strawberries is another type of sweet. The thing that I really appreciated about the Strawberried in Fudge flavor is that you really can taste strawberries throughout. Every bite had a bit of strawberry essence. While the yellow cake added a nice texture similar to the Deck the Halls' brownie bits, it made the ice cream incredibly sweet—a little too sweet for my liking.
Final thoughts:
Did the two flavors give me Christmas vibes? Honestly, no. Aside from the names and the holiday sprinkles (that I didn't have, remember?), I'm not sure what was particularly holiday-ish about these flavors. The ice creams felt a lot more like Cold Stone's take on a strawberry shortcake and a brownie sundae.
But did the ingredients work together in each flavor? Well, yes and no. I personally loved the Deck the Halls flavor. It's a dream for chocolate lovers, all of the flavors really came together well, and the Cake Batter ice cream was neither overpowering nor underwhelming. Strawberried in Fudge, on the other hand, was a bit too sweet for my taste, though I can see anyone with a serious sweet tooth loving it.
Janae Price is a News Staff Writer at Thrillist. She's a native New Yorker and loves all things cheese, K-pop, and culture. Follow her on Instagram and Twitter @janae_larie.