Taste Test: We Guessed Lay's 4 New Mystery Flavors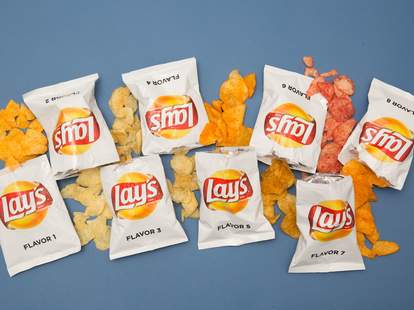 Considering Lay's recent track record of releasing crazy chip flavors like Cappuccino, Southern Biscuits & Gravy, and among others, Wasabi Ginger, it should come as no surprise the company is just itching to launch even more interesting, extreme, and borderline ridiculous potato chips in the new year. Well, that's why we hardly batted an eye when they sent us samples of what will be four new flavors... until we realized Lay's actually sent us eight unlabeled bags of samples, including four new mystery flavors and four more that are already sold in stores. A guessing game.
That's right, Lay's is releasing four new flavors in the near future, but they won't tell anyone what the flavors are until some sort of big reveal later this month. However, the company will share a series of emoji riddles on Twitter this week (they've already posted two), which will serve as clues to figuring out the new flavors, according to a spokeswoman. Additionally, a press release said the all-new flavors will reflect what Lay's is forecasting as this year's top flavor trends, including Indian and Japanese spices, specialty cheeses, and floral ingredients in food. Intriguing. 
Obviously, we're more than up for the challenge, especially if it involves eating fistfuls of potato chips out of unmarked packages. This certainly is not our first time diving face first into crazy-flavored potato chips, and hopefully, not our last. Here's what we found: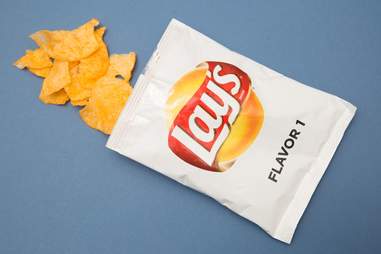 Lili Sams/Thrillist
Flavor 1
What it tastes like: These chips reminded us of the classic cheddar-flavored potato chips that you'd find in a bag lunch or stocked in your grandma's pantry. Hardly a "flavor trend" for this year.
Our guess: One of Lay's longtime offerings, Cheddar & Sour Cream
Lili Sams/Thrillist
Flavor 2
What it tastes like: Before we get into the taste, let's start with the smell — you'll know right after opening the bag that there's a strong type of cheese flavor inside. And that's exactly what it tastes like, a different (as in not cheddar) cheese flavor with a hint of a visible green herb seasoning. We're thinking it's chives, like a French omelette.
We think this flavor corresponds with the first clue Lay's shared on Twitter. 
Our guess: A new flavor, Smoked Gouda & Chives.
Lili Sams/Thrillist
Lili Sams/Thrillist
Flavor 4
What it tastes like: While these kettle cooked chips look deceivingly similar to the previous salt and pepper variety, they're packed with some powerful spice flavors like oregano, basil, and rosemary or thyme. The chips are also pretty salty, which leads us to our guess (but we're super unsure on this one). 
Our guess: A new Lay's flavor, Italian Fries
Lili Sams/Thrillist
Flavor 5
What it tastes like: Having eaten one or two (zillion) barbecue-flavored potato chips in our day, we were 99.9% sure that these chips were Lay's basic Barbecue flavor, but upon tasting, and further tasting, we caught some sweet honey-like notes in there, too. This isn't surprising, considering that Lay's offers chips fitting that exact description.  
Our guess: An existing Lay's flavor, Honey Barbecue
Lili Sams/Thrillist
Flavor 6
What it tastes like: This chip, by far, is the most interesting, different-tasting, and baffling of all the frustratingly mysterious flavors Lay's sent us. After eating almost the entire bag, we noted flavors of soy sauce, garlic, salt, and a little something sweet hiding in there, too. Perhaps something inspired by Asian cuisine.
Our guess: A new flavor, Sweet Teriyaki.
Lili Sams/Thrillist
Flavor 7
What it tastes like: These chips are bright red. Like Flamin' Hot Cheetos (which are also made by Frito-Lay) red. Given this evidence, and the spicy instant-heartburn flavor, the answer is obvious.
Our guess: Lay's existing Flamin' Hot flavor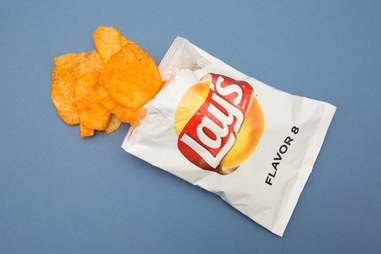 Lili Sams/Thrillist
Flavor 8
What it tastes like: If you like flavorful spicy food, you're going to love these chips -- especially if a basic bag of Flamin' Hot leaves you wanting more. Undoubtedly a new addition to the lineup, these chips pack the heat, but also strong garlic, red pepper, and habanero flavors. 
These tasting notes are particularly interesting, considering the second clue that Lay's shared via Twitter on Tuesday. Can you see it? Fire-E Rose-Tea Hap-Bun-Arrow, or what we are guessing is…
Our guess: A new Lay's flavor, Fiery Roasty Habanero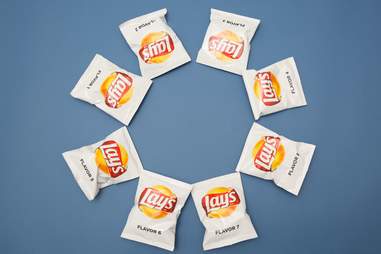 Lili Sams/Thrillist
The Bottom Line
We were equal parts pleasantly surprised and incredibly frustrated by how difficult Lay's made this snackable guessing game of sorts. While the existing flavors were fairly easy to figure out (we're 90% sure we ID'd them correctly), the mysterious new flavors left us scratching our heads, which is kind of terrible when your hands are covered in potato chip crumbs and grease.
We're still far from confident about Flavor 4 and Flavor 6, but hey, we enduring the painstaking task of sitting around and eating potato chips before they're released to the public. We'll keep an eye out for additional clues and keep you updated when the flavors are revealed -- right after we wipe up all the crumbs and grease.
Sign up here for our daily Thrillist email, and get your fix of the best in food/drink/fun.
Tony Merevick is Cities News Editor at Thrillist and has now consumed enough potato chips for a very long time. Send news tips to news@thrillist.com and follow him on Twitter @tonymerevick.