Chipotle's New Burger Joint Already Scrapped 'Responsibly Raised' Beef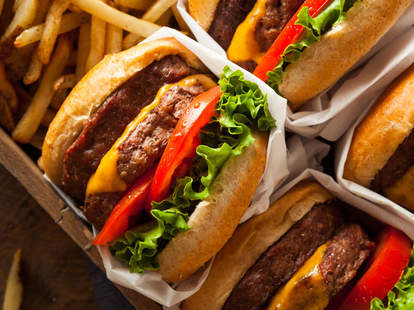 Chipotle's new burger restaurant, Tasty Made, launched in October under the pretense of serving healthy, "responsibly raised" beef, much like its parent company. But just under two months since its first location opened doors in Lancaster, Ohio, the restaurant is abandoning its ethical slogan, because it's serving the kind of beef you'd get in any fast food joint.
That's right. Tasty Made switched to "conventional" beef, despite Chipotle's continued insistence on providing "food with integrity" that contains no hormones and antibiotics. According to Nation's Restaurant News, the beef-switch pertains to customer feedback, and the general consensus that the burgers were originally overpriced. When Tasty Made first started serving burgers -- all but 45 days ago -- clientele griped about the price of a cheeseburger ($6.10) and pressed the company for a more affordable sandwich. The price has since been lowered to $4.10 -- a significant decrease, to be sure -- but that discount comes with the consequence of lesser-touted beef. You get what you pay for.
The Denver company even makes note of this on its website, albeit discreetly. Note the "Conventionally Raised, 100% American Beef," right next to "Good ol' American Cheese."
Chipotle has long prided itself on serving beef that was raised ethically, without the aid of artificial hormones. Tasty Made was always supposed to follow the same standards. So, the contradiction is a little ironic, although satisfying customer demand is the company's number one priority at the moment. When considering Tasty Made's lukewarm reception, and Chipotle's struggles in multiple areas -- like the prolonged nightmare of last year's food borne illness epidemic, and the company's founder and CEO, Steve Ells, admitting his restaurants are well below average in terms of customer service -- Chipotle needs to heed the public's warning, and in every way it can.
Sign up here for our daily Thrillist email, and get your fix of the best in food/drink/fun.
Sam Blum is a News Staff Writer for Thrillist. He's also a martial arts and music nerd who appreciates a fine sandwich and cute dogs. Find his clips in The Guardian, Rolling Stone, The A.V. Club and Vice. He's on Twitter @Blumnessmonster.