Americans don't agree on everything, but we all agree that taxes are horrendous. Now that the worst is behind us, (and hopefully you saved some money on your taxes along the way) we'd argue it's now imperative important to provide yourself with some serious self-care afterward. Take a bath. Walk on grass barefoot for a while. Treat yourself to an especially decadent rack of ribs, for example.
Fortunately for you there's a ton of free food and drink promotions and deals up for grabs on Tax Day. You just have to know where to go:
Free food deals
Hard Rock Cafe
The deal: Some Hard Rock locations are giving away free burgers if you choose to sing your favorite song, but call ahead to make sure yours is participating.  
When: April 18th.
Kona Ice
The deal: Get ready to cool down with another year of Kona's free shaved ice.
When: April 18th.
Cinnabon
The deal: For those who can't get enough of Cinnabon, some bakery locations are offering not one but two free Cinnabon bites.
When: April 18th.
Great American Cookies
The deal: Check ahead, but participating locations are offering a free birthday cake cookie
When: April 18th.
Hot Dog on a Stick
The deal: The hot dog chain is giving out one free Original Turkey Dog per customer.
When: April 18th.
Recommended Video
This Pizza Dip Lets You Throw a New Kind of Pizza Party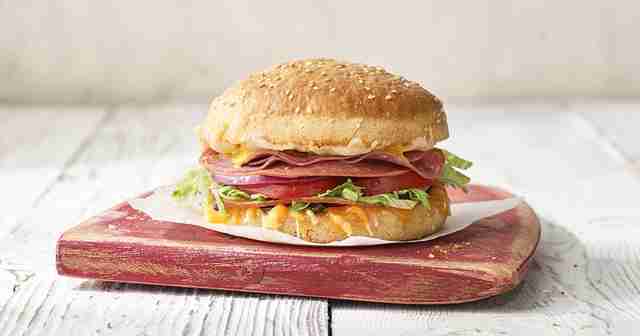 Schlotzsky's
The deal: The sandwich shop is once again offering a free The Original -- its signature sandwich -- with the purchase of chips and a medium drink. 
When: April 18th.
Arby's
The deal: Free curly fries with no purchase required! By the way, Arby's fries are the best fries. The deal's only good at certain locations so it's best to call ahead.
When: April 18th.
Tony Roma's
The deal: If you order an entrée at Tony Roma's, between, the chain will give you a coupon for a free dessert that you can use on your next visit. 
When:  Visit Tony Roma's between April 15th and April 17th to cash in. 
Bonus free beer deal
World of Beer
The deal: On Tax Day you can drink a free beer on the house or $5 off your check.
When: April 18th.
Other food and drink deals
Grimaldi's Pizzeria
The deal: The pizza joint is offering its traditional 16" pizza (toppings not included) for $10.40 on Tax Day at locations nationwide.
When: April 18th.
Sonny's BBQ
The deal: The St. Louis Rib Dinner is half-off on Tax Day at Sonny's as part of its Irresistible Ribs Special. 
When: April 18th.
Chili's
The deal: Prepare your body for $6 blueberry and pineapple margaritas all day on Tax Day.
When: April 18th.
Bruegger's Bagels
The deal: The bagel chain is offering Big Bagel Bundle for $10.40. That's 13 bagels and two tubs of cream cheese.
When: The promotion is good from April 14th through April 19th.
Sonic Drive-In
The deal: Half-price cheeseburgers, but the deal may vary depending on the location.
When: April 18th.
Firehouse Subs
The deal: The sandwich chain will give you a free sub with the purchase of a medium or large sub, chips, and a drink.
When: April 18th-April 20th.
Boston Market
The deal: You can get half-chicken meal, including two sides, cornbread, a cookie, and a fountain drink for $10.40.
When: April 18th. 
McDonald's
The deal: The chain's burger-and-fries deals vary by location, but most are doing buy-one-get-one deals Big Macs and Quarter Pounders priced at 1 cent, 15 cents, or 25 cents for the second burger. Call ahead to your local McDonald's for their specific deal.
When: April 18th.
Capriotti's
The deal: Upgrade your small sandwich to medium totally for free.
When: April 18th.
Chuck E. Cheese's
The deal: Once you've finished the adult stuff, pretend you're a kid again by ordering one large pizza and getting a second one for free.
When: April 18th to April 20th.
Noodles & Company
The deal: For any noodles.com order of $10 or more at the noodle joint, you can get a coupon for $4 off by entering the promo code TAXDAY17.
When: The $4 off promotion runs from April 12th to April 18th. 
Bob Evans
The deal: Printing out this Bob Evans coupon will get you 30% off your meal on Tax Day.
When: April 18th.
BLT Steak
The deal: Locations nationwide are offering half-priced drinks on Tax Day.
When: April 18th.
Church's Chicken
The deal: It's actually unrelated to Tax Day, but this old fried-chicken chain is offering a 65-cent chicken special deal in honor of its 65th anniversary. Just show up on time for happy hour! 
When: From 2pm-4pm, April 17th-April 21st
Know of any other chains offering Tax Day freebies? Lets us know at news@thrillist.com and we'll add 'em here.
Sign up here for our daily Thrillist email, and get your fix of the best in food/drink/fun.